adjective
The definition of awake is you are no longer sleeping.

An example of awake is a person who is out of bed and just had his morning coffee.
verb
To awake is defined as changing from a state of sleep to a state of alertness.

An example of awake is when you open your eyes in the morning after a good night sleep.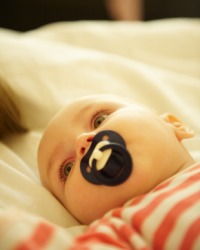 The baby is awake.
---
awake definition by Webster's New World
transitive verb
awoke or awaked, awaked or awoken, awaking
to rouse from sleep; wake
to rouse from inactivity; stir up
to call forth (memories, fear, etc.)
to make aware: with to
Origin: a merging of two words: Middle English awaken ; from Old English awacan (on-, out plush wacan, to arise, awake) and amp; Middle English awakien ; from Old English awacian (on-, out plush wacian, to be awake, watch): see wake
intransitive verb
to come out of sleep; wake
to become active
to become aware: with to
adjective
not asleep
active or alert; aware
Origin: < obs pp. awaken
Webster's New World College Dictionary Copyright © 2010 by Wiley Publishing, Inc., Cleveland, Ohio. Used by arrangement with John Wiley & Sons, Inc.
---
awake definition by American Heritage Dictionary
verb
a·woke
or
a·waked
,
a·waked
or
a·wok·en
,
a·wak·ing
,
a·wakes
verb
, transitive
To rouse from sleep; waken.
To stir the interest of; excite.
To stir up (memories, for example).
verb
, intransitive
To wake up.
To become alert.
To become aware or cognizant: awoke to reality. See Usage Note at wake1.
adjective
Completely conscious; not in a state of sleep.
Vigilant; watchful. See Synonyms at aware.
Origin: Middle English awaken, from Old English āwacan : ā-, intensive pref. + wacan, wake; see wake1.