verb
Excite is defined as to stir up emotions, action or strong reactions.

An example of excite is telling a group of children they're going to get ice cream.
An example of excite is a fire engine with sirens blaring while driving past a house with many dogs.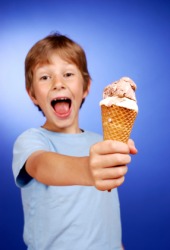 You can excite a child by offering him ice cream.
---
excite
transitive verb
excited, exciting
to put into motion or activity; stir up: tapping on the hive excited the bees
to call forth; arouse; provoke: the rumors excited her curiosity
to arouse the feelings or passions of: the news excited us

Elec.

to supply electric current to (the field winding of a motor, generator, or other device); also, to produce in this way a magnetic field in
to supply a signal to (any stage of a vacuum-tube or transistor circuit)

Physics

to raise (a nucleus, atom, etc.) to a higher energy state

Physiol.

to produce or increase the response of (an organism, organ, tissue, etc.) to a proper stimulus
Origin of excite
Middle English
exciten
; from Old French
exciter
; from Classical Latin
excitare
, to call forth, excite, frequentative of
exciere
, to call forth ; from
ex-
, out + past participle of
ciere
, to call, summon: see cite
---
excite
transitive verb
ex·cit·ed
,
ex·cit·ing
,
ex·cites
a. To arouse strong feeling in:

The speaker excited the crowd.

See Synonyms at

provoke

.

b. To arouse (someone) sexually.

c. To elicit or arouse (a reaction or emotion, for example): odd noises that excited our curiosity.

a. To cause to become more active: Lowering interest rates should excite the economy.

b. Physiology To produce increased activity or response in (an organ, tissue, or part); stimulate.

c. Physics To raise (an atom, for example) to a higher energy level.
Origin of excite
Middle English
exciten
, from Latin
excitāre
, frequentative of
exciēre
:
ex-
,
ex-
+
ciēre
,
to set in motion
; see
kei&schwa;-
in Indo-European roots.
---
excite
---
excite - Computer Definition
(Excite.com, Irvington, NY, www.excite.com) One of the major search engines on the Web founded in 1995 and part of IAC Search & Media. Excite was acquired by Ask Jeeves, Inc. in 2004, which was acquired by IAC in 2005. See Web search engines.
---