sensibility
sen·si·bil·i·ty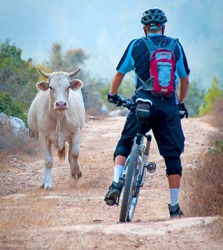 The mountain biker's sensibility told him to not come any closer to the territorial bull standing in the road.
noun
Sensibility is your sensitivity to stimulus or other things that makes you react in a certain way.

When you are easily offended, this is an example of your sensibility.
---
sensibility
the capacity for physical sensation; power of responding to stimuli; ability to feel
pl.

-·ties

[often pl.]

the capacity for being affected emotionally or intellectually, whether pleasantly or unpleasantly; receptiveness to impression
the capacity to respond perceptively to intellectual, moral, or aesthetic values; delicate, sensitive awareness or responsiveness
liability to be offended, repelled, etc.
Origin of sensibility
Middle English from Middle French from Late Latin
sensibilitas
from Classical Latin
sensibilis
: see sensible
---
sensibility
noun
pl.
sen·si·bil·i·ties
The ability to perceive stimuli: lost sensibility in a toe.
often sensibilities

a. Mental or emotional responsiveness, especially in being offended or in having one's feelings hurt: "The earthy humor of many of the ballads deeply offended her sensibilities" ( Anne Stott )

b. The capacity to respond intelligently to refined emotions, especially in art: "They celebrated deeds that fit stereotyped images of noble valor, making the writing flat and tedious to modern sensibilities" ( David A. Bell )
---
sensibility

Noun
(plural sensibilities)
The ability to sense, feel or perceive; especially to be sensitive to the feelings of another

'I think sensibility is important in a relationship.'

(chiefly in the plural) An acute awareness or feeling

'I apologize if I offended your sensibilities, but that's the truth of the matter.'
---