emotion

e·mo·tion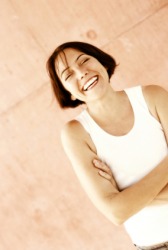 This woman expresses the emotion of joy.
noun
The definition of an emotion is a mental state that is spontaneous and does not come from conscious effort.

An example of emotion is being full of joy.
---
emotion
strong feeling; excitement
a state of consciousness having to do with the arousal of feelings, distinguished from other mental states, as cognition, volition, and awareness of physical sensation

any specific feeling; any of various complex reactions with both mental and physical manifestations, as love, hate, fear, anger, etc.
Origin of emotion
French (prob. after
motion
) from
émouvoir
, to agitate, stir up from Vulgar Latin an unverified form
exmovere
, for Classical Latin
emovere
from
e-
, out +
movere
, move
---
emotion
noun
A mental state that arises spontaneously rather than through conscious effort and is often accompanied by physiological changes; a feeling: the emotions of joy, sorrow, and anger.
Such mental states or the qualities that are associated with them, especially in contrast to reason: a decision based on emotion rather than logic.
Origin of emotion
French
émotion
from
Old French
from
esmovoir
to excite
from
Vulgar Latin
exmovēre
Latin
ex-
ex-
Latin
movēre
to move
; see
meuə-
in Indo-European roots.
---
emotion

Noun
(plural emotions)
A person's internal state of being and involuntary physiological response to an object or a situation, based on or tied to physical state and sensory data.
A reaction by an non-human organism with behavioral and physiological elements similar to a person's response.
---