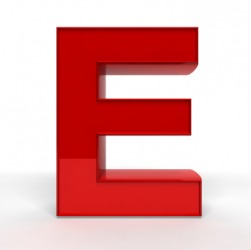 The letter E.
noun
E is the fifth letter in the English alphabet and is a vowel.

An example of e is the letter in the word "everything."
---
e
or E
noun
pl.
the fifth letter of the English alphabet: from the Greek epsilon, a borrowing from the Phoenician
any of the speech sounds that this letter represents, as, in English, the vowel (e) of bed or (?) of equal, or, when unstressed, (?) as in father
a type or impression for e or E
the fifth in a sequence or group
an object shaped like
of e or E
fifth in a sequence or group
shaped like
Math.
the number used as the base of the system of natural logarithms, approximately 2.71828
E
Educ.

a grade indicating below-average work, often equivalent to condition
sometimes, a grade indicating excellence

Music

the third tone or note in the ascending scale of C major
a key, string, etc. producing this tone
the scale having this tone as the keynote
E
Earl
earth
east
eastern

Slang

Ecstasy (the drug)
empty

Football

end
England
English

Baseball

error(s)
exa-
excellent

Physics

energy
the modulus of elasticity
electromotive force or voltage
Also, for E-, -, , , & ,
e
e-
ex-: used before b, d, g, j, l, m, n, r, or v: eject, emit
e-
done, made, purchased, etc. electronically, over the Internet: e-banking, airline e-tickets
Origin of e-
e(lectronic)
---
e
or E
noun
pl.
e's,
or
E's
also
es
or
Es
The fifth letter of the modern English alphabet.
Any of the speech sounds represented by the letter e.
The fifth in a series.
Something shaped like the letter E.
E A grade that indicates failing status.
Music

a. The third tone in the scale of C major or the fifth tone in the relative minor scale.

b. A key or scale in which E is the tonic.

c. A written or printed note representing this tone.

d. A string, key, or pipe tuned to the pitch of this tone.

e Mathematics The base of the natural system of logarithms, having a numerical value of approximately 2.71828.
E The hypothesized textual source of certain narrative portions of the Pentateuch in which God is referred to as Elohim rather than with the Tetragrammaton.
Origin of e
Sense 8, from
Elohim
advertising poster, Métropole of Paris
Métropole used this poster in the 1890s to market the Acatène
E
E
abbreviation
a. east

b. eastern

Football end
energy
English
Baseball error
excellent
e-
prefix
Electronic: e-cash; e-cigarette; e-tickets; e-waste.
Origin of e-
e(lectronic)
on the model of
e-mail
---
e

---
e - Computer Definition

E
Exa. From the Greek hexa, meaning six, translates to quintillion, referring to the fact that, in terms of order of magnitude in base 1,000, exa is 1,000 6 . In order, that puts it right behind kilo (thousand), Mega (million), Giga (billion),Tera (trillion), and Peta (quadrillion).
In terms of the electromagnetic spectrum, EHz (ExaHertz) is a quintillion (10 18 ) Hertz, which is in the range of X-rays, gamma rays and cosmic rays, none of which are currently have any application in telecommunications. An Ebps would be a quintillion (10 18 ) bits per second (bps). In transmission systems, therefore, a quintillion would be exactly 1,000,000,000,000,000,000 since the measurement is based on a base 10, or decimal, number system. That definitely would be broadband, if it were possible, but it is difficult to imagine an application for that level of bandwidth. See also bandwidth, bps, broadband, and electromagnetic spectrum.
Voltage. See voltage.
In physics, the symbol for energy. See energy.
In physics, the symbol for electromotive force. See electromotive force.
---
(1) See exponent.
(2) (Electronic) "E" with or without the hyphen (e or e-) is used as a word prefix in order to connote the electronic or Internet version of a physical object or activity: mail becomes e-mail, book becomes e-book, etc. Although "e" terms are often written without the hyphen (dash), we use it in this encyclopedia for readability; for example, "e-commerce" is easier to recognize and verbalize than "ecommerce."
(3) A set of object-oriented extensions for Java and Common Lisp introduced in 1997 by Electric Communities. Inspired by the Joule and Original-E languages, E was designed to create secure distributed computing applications. Messages are sent to remote objects in "vats," which processes the messages in the order they are received.
---
e - Investment & Finance Definition
Can be attached as a fifth letter of a NASDAQ stock symbol to specify that the company has not met the reporting date for the company's Securities and Exchange Commission (SEC) regulatory filing requirements. This happens infrequently because companies can be delisted or face penalties from the SEC if they do not meet regulatory requirements.
---