One of the trickiest spelling issues in the English language is remembering if the vowels in a word follow "i before e" or "e before i". Many of us were taught the "i before e, except after c" rhyme to help us remember this rule. While that makes for a catchy mnemonic, it's more often wrong than right. It's time to investigate "i before e, except after c" once and for all.
Examples of I Before E and E Before I Words
To visualize what we're about to discuss, let's refresh ourselves with some common -ie- and -ei- words that do follow the rule:
| | |
| --- | --- |
| -ie | -ei |
| achieve | ceiling |
| believe | conceit |
| cashier | conceive |
| chief | deceit |
| field | deceive |
| grief | inconceivable |
| relieved | perceive |
| shriek | receipt |
| tier | receive |
| yield | transceiver |
It would be great if -ie never followed "c" and -ei always did. However, that's simply not the case. Here are some examples of exceptions to the rule:
| | |
| --- | --- |
| -ei not after c | -ie after c |
| beige | ancient |
| eight | concierge |
| foreign | conscience |
| forfeit | deficient |
| height | efficient |
| neighbor | fancies |
| seize | glaciers |
| vein | policies |
| weight | science |
| weird | society |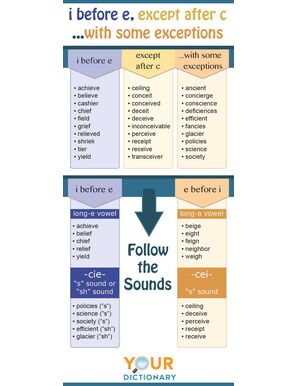 Rules Are Made to Be Broken
As it turns out, if we were only talking about "i" and "e", the rule would largely apply. In a word without the letter "c", "i" will almost always come before "e". However, there are so many exceptions to the "i before e, except after c" rule, it all but washes it out.
Christopher Ingraham, in The Washington Post, cites a University of Warwick statistician who claimed most words follow an "e before i, except after c" pattern over an "i before e, except after c" pattern. Ingraham pokes fun at the nosedive we just took, writing:
As it turns out, for every "ceiling" there's a "concierge," a "conscience" and some "celibacies." For every "deceit," there are "deficiencies," "delicacies" and a "dicier." The iciest glaciers make idiocies out of the conceit of "except after c.
So, although the classic mnemonic is pleasing to the ears (and occasionally true), it's a catchy phrase that many are stepping away from.
If you're really holding on to the "i before e, except after c" ideal, then you'd have to follow Merriam Webster's lead and update it to be more accuate, although much less catchy:
I before e, except after c
Or when sounded as 'a' as in 'neighbor' and 'weigh'
Unless the 'c' is part of a 'sh' sound as in 'glacier'
Or it appears in comparatives and superlatives like 'fancier'
And also except when the vowels are sounded as 'e' as in 'seize'
Or 'i' as in 'height'
Or also in '-ing' inflections ending in '-e' as in 'cueing'
Or in compound words as in 'albeit'
Or occasionally in technical words with strong etymological links to their parent languages as in 'cuneiform'
Or in other numerous and random exceptions such as 'science', 'forfeit', and 'weird'.
Since the list of exceptions to the "i before e, except after c" rule is so extensive it all but cancels it out, it might be helpful to explain things according to letter sounds or phonics. By paying attention to the sound of the letters, rather than their placement in the word, you will have a much better idea of whether you have an "i before e" or "e before i" word.
If the vowels make a long "ee" sound, then the word is spelled with -ie, unless the vowels follow "c". If the vowels make another sound, like "ay" or "aye," then it is usually spelled with -ei. (Again, just assume that for every benchmark provided below, there's sure to be an exception.)
-ie
long -e vowel sound

-ei
long -a vowel sound

achieve

beige

belief

eight

chief

feign

relief

neighbor

yield

weigh
-cie
either -s or -sh sound

-cei
-s sound

policies ("s")

ceiling

science ("s")

deceive

society ("s")

perceive

efficient ("sh")

receipt

glacier ("sh")

receive
In truth, there are so many exceptions, there is no rule. This is one of the components of the English language that simply must be memorized through repetition i.e. flash cards.
In this day and age, most of us are going to refer to spell check, but that being said, you still want to have some degree of an understanding of the issue. After reading the article keep hold of our handy infographic. We hope it'll untangle some of the "i before e" knots!