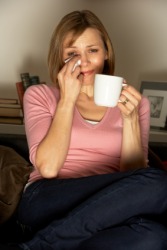 This woman is getting emtional over a television show.
adjective
The definition of emotional is something that makes you have a strong feeling.

An example of emotional is a type of movie that makes you cry.
---
emotional
of or having to do with emotion or the emotions
showing emotion, esp. strong emotion
easily aroused to emotion; quick to weep, be angry, etc.
appealing to the emotions; moving people to tears, anger, etc.
---
emotional
adjective
Of or relating to emotion: an emotional illness; emotional crises.
Readily affected with or stirred by emotion: an emotional person who often weeps.
Arousing or intended to arouse the emotions: an emotional appeal.
Marked by or exhibiting emotion: an emotional farewell.
Related Forms:
---
emotional

Adjective
(comparative more emotional, superlative most emotional)
Of or relating to the emotions.

emotional crisis

Characterised by emotion.
Determined by emotion rather than reason.

emotional decision

Appealing to or arousing emotion.

emotional speech

Easily affected by emotion.

She's an emotional person.

Readily displaying emotion.

emotional greeting
---