rhapsody

rhap·so·dy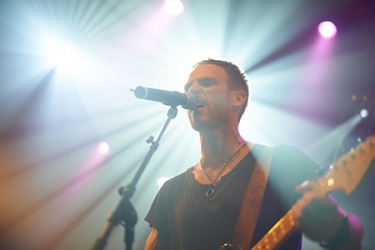 The musician was in a state of rhapsody while singing the song he wrote for his young son.
noun
Rhapsody is extended, emotional piece of music or literature, or an enthusiastic written or spoken response or feeling, or an ancient Greek epic poem.

George Gershwin's composition called "Rhapsody in Blue," an emotional musical piece, is an example of a rhapsody.
Enthusiastic praise of an artist expressed by an ardent fan is an example of a rhapsody of praise.
---
rhapsody
noun
pl.
-·dies
in ancient Greece, a part of an epic poem suitable for a single recitation
any ecstatic or extravagantly enthusiastic utterance in speech or writing
great delight; ecstasy

Obs.

a miscellany

Music

an instrumental composition of free, irregular form, suggesting improvisation
Origin of rhapsody
French
r(h)apsodie
from Classical Latin
rhapsodia
from Classical Greek
rhaps?idia
from
rhaps?idos,
one who strings songs together, reciter of epic poetry from
rhaptein,
to stitch together ( from Indo-European an unverified form
werp-, an unverified form wrep-,
extension of base an unverified form
wer-,
to turn, bend from source worm, wrap, ravel) +
?id?,
song: see ode
---
rhapsody
noun
pl.
rhap·so·dies
Exalted or excessively enthusiastic expression of feeling in speech or writing.
A literary work written in an impassioned or exalted style.
A state of elated bliss; ecstasy.
Music A usually instrumental composition of irregular form that often incorporates improvisation.
An ancient Greek epic poem or a portion of one suitable for uninterrupted recitation.
Origin of rhapsody
Latin
rhapsōdia
section of an epic poem
from
Greek
rhapsōidiā
from
rhapsōidein
to recite poems
rhaptein
rhaps-
to sew
; see
wer-
2
in Indo-European roots.
aoidē, ōidē
song
; see
wed-
2
in Indo-European roots.
---
rhapsody

Origin
From Latin rhapsōdia, from Ancient Greek ῥαψῳδία (rhapsōdia).
---
rhapsody - Computer Definition
(1) An earlier online music service that was the first to offer unlimited songs for a flat fee. It all started in 1999 with the development of a quality (for that time) music streaming engine first deployed by TuneTo.com Internet radio. TuneTo was acquired by Listen.com and renamed Rhapsody in late 2001. In 2003, RealNetworks acquired Listen.com, and Rhapsody was spun off as an independent company in 2010. Napster merged with Rhapsody in 2011 (see Napster).
(2) The code name of the next-generation operating system from Apple that evolved into Mac OS X. Rhapsody was a Unix-based operating system that supported the Mac OS (Blue Box) and OpenStep (Yellow Box) programming interface (API) from NeXT. See Mac OS X, Yellow Box and NeXT.
---