fatuous

fat·u·ous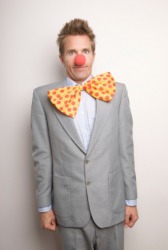 This man is fatuous.
adjective
The definition of fatuous is foolish or silly.

An example of fatuous is the nature of a clown.
---
fatuous
complacently stupid or inane; silly; foolish
Origin of fatuous
Classical Latin
fatuus
, foolish from Indo-European base an unverified form
bh?t-
, to strike from source batter
---
fatuous
adjective
Foolish or silly, especially in a smug or self-satisfied way:
"an era of delicious, fatuous optimism shaped by the belief that enough good will on the part of people like ourselves could repair anything"
(
Shirley Abbott
) See Synonyms at
foolish
.
Origin of fatuous
From
Latin
fatuus
Related Forms:
---
fatuous

Adjective
(comparative more fatuous, superlative most fatuous)
Obnoxiously stupid, vacantly silly, content in one's foolishness.

To compare the intelligence levels of men and women is itself fatuous.
Usage notes
Refers especially to foolishness and disregard of reality.
Origin
From Latin fatuus ("foolish, silly, simple").
---