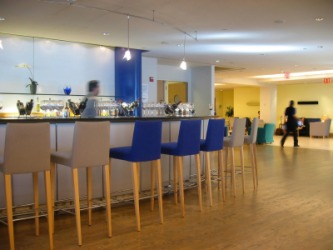 An airport club lounge.
noun
The definition of a lounge is an area in a public place such as a hotel, airport or club, where you can sit, wait and relax.

A comfortable room in an airport where first class passengers go to wait for their flights is an example of the First Class lounge.
A room off the lobby in a hotel where people can go and relax and listen to music and drink a drink is an example of a lounge.
verb
To lounge is defined as to lay around or sit around in some kind of comfortable couch or chair.

When you lay stretched out on the couch and relax, this is an example of a time when you lounge on the couch.
---
lounge
intransitive verb
lounged

,

loung′ing
to stand, move, sit, lie, etc. in a relaxed or lazy way; loll
to spend time in idleness: they lounge around on street corners, wasting their lives
Origin of lounge
15th-c. Scottish dialect, dialectal from uncertain or unknown; perhaps
lungis
, laggard, lout from Old French
longis
from Classical Latin
Longinus
, Apocryphal name of the soldier who lanced the crucified Jesus in the side: sense influenced, influence in Old French by associated, association with
longe
, long, slow from Classical Latin
longus
, long
to spend by lounging: to lounge the summer away
an act or time of lounging

Archaic

a lounging gait or stroll

a room, as in a hotel or theater, where guests or patrons may go to relax, socialize, smoke, etc.
cocktail lounge

a couch or sofa, esp. a backless one with a headrest at one end
---
lounge
verb
lounged, loung·ing, loung·es
verb
intransitive
To move or act in a lazy, relaxed way; loll: lounging on the sofa; lounged around in pajamas.
To pass time idly: lounged in Venice till June.
verb
transitive
To pass (time) in a lazy, relaxed, or idle way: lounged the day away.
noun
A public waiting room, as in a hotel or an air terminal, often having smoking or lavatory facilities.
A cocktail lounge.

a. A living room.

b. A lobby.

A long couch, especially one having no back and a headrest at one end.
Origin of lounge
Possibly from
French
s'allonger
to stretch out
from
Old French
alongier
to lengthen
from
Medieval Latin
allongāre
Latin
ad-
ad-
Latin
longus
long
; see
long
1
.
Related Forms:
---
lounge

Verb
(third-person singular simple present lounges, present participle lounging, simple past and past participle lounged)
To relax; to spend time lazily; to stand, sit, or recline, in an indolent manner.
---