noun
The definition of a parlor is a room that is set aside for conversation or receiving guests, or a shop that provides a specific service.

A formal living room in your home where you invite company to sit and chat when they come over for Christmas dinner is an example of a parlor.
A business that conducts funerals is an example of a funeral parlor.
YourDictionary definition and usage example. Copyright © 2013 by LoveToKnow Corp.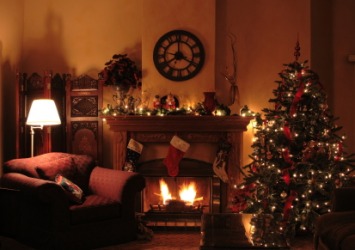 A parlor decorated for Christmas.
Licensed from iStockPhoto
---
noun
Archaic

a room set aside for the entertainment of guests; formal sitting room

Old-fashioned

any living room

a small, semiprivate sitting room or meeting room apart from the main lounges in a hotel, inn, etc.

Old-fashioned

a business establishment elegantly furnished to resemble a private sitting room: an ice-cream parlor
now, a shop or business establishment, often with some special equipment or furnishings for personal services: a beauty parlor
Origin: Middle English parlour from Old French parleor from parler: see parley
Webster's New World College Dictionary
Copyright © 2010 by Wiley Publishing, Inc., Cleveland, Ohio.
Used by arrangement with John Wiley & Sons, Inc.
---
noun
A room in a private home set apart for the entertainment of visitors.
A small lounge or sitting room affording limited privacy, as at an inn or tavern.
A room equipped and furnished for a special function or business: a tanning parlor.
Origin: Middle English parlur, from Old French, from parler, to talk; see parley.
The American Heritage® Dictionary of the English Language
, 4th edition Copyright © 2010 by Houghton Mifflin Harcourt Publishing Company. Published by Houghton Mifflin Harcourt Publishing Company. All rights reserved.