parlor

par·lor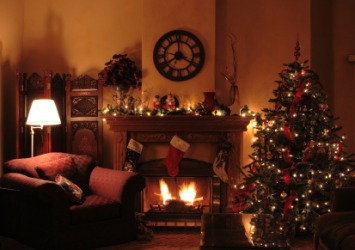 A parlor decorated for Christmas.
noun
The definition of a parlor is a room that is set aside for conversation or receiving guests, or a shop that provides a specific service.

A formal living room in your home where you invite company to sit and chat when they come over for Christmas dinner is an example of a parlor.
A business that conducts funerals is an example of a funeral parlor.
---
parlor
Archaic

a room set aside for the entertainment of guests; formal sitting room

Old-fashioned

any living room

a small, semiprivate sitting room or meeting room apart from the main lounges in a hotel, inn, etc.

Old-fashioned

a business establishment elegantly furnished to resemble a private sitting room: an ice-cream parlor
now, a shop or business establishment of a specified kind, often with some special equipment or furnishings for personal services: a beauty parlor, tattoo parlor, off-track betting parlor
Origin of parlor
Middle English
parlour
from Old French
parleor
from
parler:
see parley
---
parlor
noun
A room in a private home set apart for the entertainment of visitors.
A small lounge or sitting room affording limited privacy, as at an inn or tavern.
A room equipped and furnished for a special function or business: a tanning parlor.
Origin of parlor
Middle English
parlur
from
Old French
from
parler
to talk
; see
parley
.
---
parlor

Noun
(plural parlors)
The living room of a house, or a room for entertaining guests; a room for talking.
(archaic) The apartment in a monastery or nunnery where the residents are permitted to meet and converse with each other or with visitors from the outside.
A room for lounging; a sitting-room; a drawing room.
(archaic) A comfortable room in a public house.
(chiefly southern US) A covered open-air patio.
Origin
From Anglo-Norman parlur and Old French parleor, from the verb parler ("to speak").
---