parley

par·ley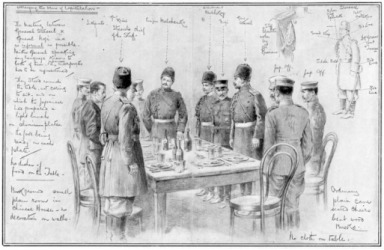 The parley between Japan and Russia resulted in the surrender of Port Arthur during Russo-Japanese War.
noun
The definition of a parley is a discussion, especially between enemies.

An example of a parley is a meeting where the senior officers in a war attends to discuss plans to end the war.
verb
Parley means to discuss, especially with an enemy.

An example of parley is for a warring country to host a conference with its opponent.
---
parley
to have a conference or discussion, esp. with an enemy; confer
Origin of parley
from French
parler,
to speak from Old French from Ecclesiastical Late Latin
parabolare,
speak from
parabola,
a speech, parable
noun
pl.
-·leys
a talk or conference for the purpose of discussing a specific matter or of settling a dispute, as a military conference with an enemy, under a truce, for discussing terms
---
parley
noun
pl.
par·leys
A discussion or conference, especially one between enemies over terms of truce or other matters.
intransitive verb
par·leyed, par·ley·ing, par·leys
To have a discussion, especially with an enemy.
Origin of parley
Middle English
from
Old French
parlee
from feminine past participle of
parler
to talk
from
Vulgar Latin
paraulāre
from
Late Latin
parabolāre
from
parabola
discourse
; see
parable
.
---
parley

---