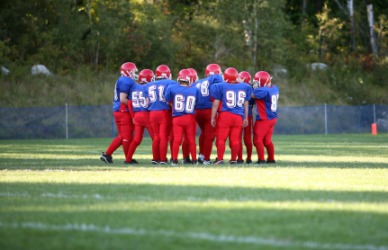 Young football players in a huddle.
noun
The definition of a huddle is a crowded mess of people or things, or is a group of people crowded together for a private conversation.

A group of football players on the field with their heads bent close together so they can have a private talk about their next play is an example of a huddle.
verb
Huddle is defined as to crowd together, or to curl up closely.

When football players gather around and put their heads together to whisper about their next play, this is an example of when they huddle.
When you are cold and you pull your knees up tight against your chest and wrap your arms around them, curling into a little ball, this is an example of when you huddle.
---
huddle
intransitive verb
-·dled

,

-·dling
to crowd, push, or nestle close together, as cows do in a storm
to draw the limbs close to the body, as from cold: to huddle under a blanket

Informal

to hold a private, informal conference

Football

to gather in a huddle
Origin of huddle
origin, originally (16th circa ), to put out of sight from uncertain or unknown; perhaps or akin to Middle English
hudel
, variant, variety of
hidel
, a hiding place from Old English
hydel
from
hydan
, hide
to crowd close together
to hunch or draw (oneself) up
to do, put, or make hastily and carelessly
to push or thrust in a hurried or disordered manner
a confused crowd or heap of persons or things
confusion; muddle; jumble

Informal

a private, informal conference

Football

a grouping of a team behind the line of scrimmage to receive signals before a play
---
huddle
noun
A densely packed group or crowd, as of people or animals.
Football A brief gathering of a team's players behind the line of scrimmage to receive instructions for the next play.
A small private conference or meeting.
verb
hud·dled, hud·dling, hud·dles
verb
intransitive
To crowd together, as from cold or fear.
To draw or curl one's limbs close to one's body: huddled under the blanket while watching television.
Football To gather in a huddle.
Informal To gather together for conference or consultation: During the crisis, the president's national security advisers huddled.
verb
transitive
To cause to crowd together.
To draw (oneself) together in a crouch.
Chiefly British To arrange, do, or make hastily or carelessly.
Origin of huddle
From
huddle
to crowd together
possibly from
Low German
hudeln
; see
(s)keu-
in Indo-European roots.
Related Forms:
---
huddle

---