hug

hug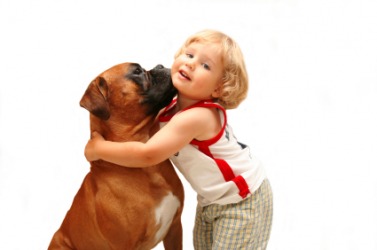 A little girl gives her dog a hug.
noun
The definition of a hug is when two people embrace with their arms.

An example of a hug is two friends saying goodbye by wrapping their arms around each other.
---
hug
transitive verb
hugged

,

hug′ging
to put the arms around and hold closely; esp., to embrace tightly and affectionately
to squeeze tightly between the forelegs, as a bear does
to cling to or cherish (a belief, opinion, etc.)
to keep close to: to hug the shoreline in sailing
Origin of hug
probably via dialect, dialectal from Old Norse
hugga
, to comfort, console
to clasp or embrace each other closely
a close, affectionate embrace
a tight clasp or hold with the arms, as in wrestling
a bear's squeeze
---
hug
verb
hugged, hug·ging, hugs
verb
transitive
To clasp or hold closely, especially in the arms, as in affection; embrace.
To hold steadfastly to; cherish: He still hugs his outmoded beliefs.
To stay close to: a sailboat hugging the shore.
verb
intransitive
To embrace or cling together closely.
noun
A close, affectionate embrace.
A crushing embrace, as in wrestling.
Origin of hug
Probably
of Scandinavian origin
Old Norse
hugga
to comfort
Related Forms:
---
hug

Verb
(third-person singular simple present hugs, present participle hugging, simple past and past participle hugged)
To embrace by holding closely, especially in the arms.

Billy hugged Danny until he felt better.

To stay close to (the shore etc.)
(figuratively) To hold fast; to cling to; to cherish.
Origin
From earlier hugge ("to embrace") (1560), probably representing a conflation of huck ("to crouch, huddle down") and Old Norse hugga ("to comfort, console"), from hugr ("courage"), from Proto-Germanic *hugiz ("mind, sense"), cognate with Icelandic hugga ("to comfort"), Old English hyge ("thought, mind, heart, disposition, intention, courage, pride").
See also:
húg
---