verb
To cower is defined as to duck down, crouch or hide in fear.

An example of cower is when you are terrified of dogs and hide behind your friend when a dog comes bounding towards you.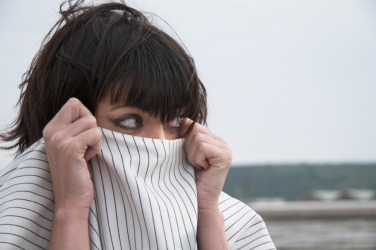 A woman cowers under her collar.
---
cower definition by Webster's New World
intransitive verb
to crouch or huddle up, as from fear or cold
to shrink and tremble, as from someone's anger, threats, or blows; cringe
Origin: Middle English couren, probably ; from Old Norse base seen in Danish kūre, Sw kura, to squat; akin to German kauern ; from Indo-European base an unverified form geu-, to curve, bend from source cod, chicken
Webster's New World College Dictionary Copyright © 2010 by Wiley Publishing, Inc., Cleveland, Ohio. Used by arrangement with John Wiley & Sons, Inc.
---
cower definition by American Heritage Dictionary
intransitive verb
cow·ered
,
cow·er·ing
,
cow·ers
To cringe in fear.
Origin: Middle English couren, of Scandinavian origin.