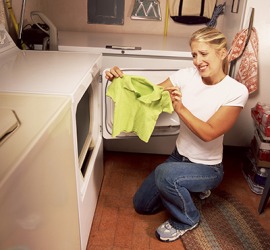 The care label on the sweater indicated that it would shrink if it was put in the dryer but Amanda didn't pay attention and now it is ruined.
verb
Shrink is defined as to become less, reduce or make smaller.

An example of to shrink is steaming a pot full of fresh spinach which, after steaming, will become a significantly reduced amount.
An example of to shrink is someone losing a lot of weight.
---
shrink
intransitive verb
shrank

or

shrunk

,

shrunk

or

shrunk′en

,

shrink′ing
to become or seem to become smaller, more compact, etc.; contract, as from heat, cold, moisture, etc.
to lessen, as in amount, worth, etc.
to draw back; turn away; cower, as from fear
to hold back, as from taking action; hesitate or recoil: to shrink from doing one's duty
Origin of shrink
Middle English
schrynken
from Old English
scrincan
, akin to Swedish
skrynka
, to wrinkle from Indo-European an unverified form
(s)kreng-
from base an unverified form
(s)ker-
, to bend, turn from source shrimp, Classical Greek
kirkos
, a ring, Classical Latin
curvus
, curved
to cause to shrink or contract; specif., to cause (fabric) to shrink by a special process in manufacturing so as to minimize later shrinkage
a shrinking; shrinkage

Origin of shrink

< (head)shrink(er)

Slang

a clinical psychiatrist or psychologist
---
shrink
verb
shrank,
or
shrunk
shrunk,
or
shrunk·en
shrink·ing, shrinks
verb
intransitive
a. To become or appear to become smaller: The shadows shrank as the sun rose higher. The mountains shrank in the distance as we drove away.

b. To become smaller from exposure to heat, moisture, or cold: The sweater shrank in the wash.

To become reduced in amount or value; dwindle: His savings quickly shrank. The market for that product has been shrinking.
To move back or away, especially in fear: "She shrank back against the wall and flattened her palms against it" ( Pearl S. Buck )
To show reluctance; hesitate: We should not shrink from making such a sacrifice.
verb
transitive
To cause to shrink: The treatment shrank the tumor.
noun
a. The act of shrinking.

b. The degree to which something shrinks; shrinkage.

Slang A psychotherapist.
Origin of shrink
Middle English
shrinken
to wither, shrivel up
from
Old English
scrincan
; see
sker-
2
in Indo-European roots.
Related Forms:
---
shrink

Verb
(third-person singular simple present shrinks, present participle shrinking, simple past shrank or shrunk, past participle shrunk or shrunken)
To cause to become smaller.

The dryer shrank my sweater.

(intransitive) To become smaller; to contract.

This garment will shrink when wet.

To draw back; to withdraw.
(intransitive, figuratively) To withdraw or retire, as from danger.
Usage notes
The slang sense was originally pejorative, expressing a distrust of practitioners in the field. It is now not as belittling or trivializing.
Origin
Cognate with Dutch schrinken ("to shrink").
---