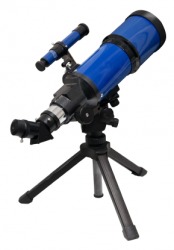 A small telescope.
noun
The definition of a telescope is an optical instrument that makes far away objects look closer by using a special arrangement of lenses and mirrors.

An optical instrument you use to look at the stars that makes the stars appear closer is an example of a telescope.
---
telescope
an optical instrument for making distant objects, as the stars, appear nearer and consequently larger: it consists of two or more lenses or mirrors
Origin of telescope
Italian
telescopio
(coined by Galileo, 1611) from Modern Latin
telescopium
from Classical Greek
t?leskopos,
seeing from a distance: see tele- and -scope
having parts that slide one inside another
intransitive verb
-·scoped·

,

-·scop·ing
to have one part slide into another part like the concentric tubes of a small, collapsible telescope
to come into contact with such force that the colliding parts become compressed
to cause to telescope
to condense; shorten, as by combining parts, compressing, etc.

---
telescope
noun
An arrangement of lenses or mirrors or both that gathers light, permitting direct observation or photographic recording of distant objects.
Any of various devices, such as a radio telescope, used to detect and observe distant objects by their emission, absorption, or reflection of electromagnetic radiation.
verb
tel·e·scoped, tel·e·scop·ing, tel·e·scopes
verb
transitive
To cause to slide inward or outward in overlapping sections, as the cylindrical sections of a small hand telescope do.
To make more compact or concise; condense.
verb
intransitive
To slide inward or outward in or as if in overlapping cylindrical sections: a camp bucket that telescopes into a disk.
Origin of telescope
New Latin
telescopium
or
Italian
telescopio
both from
Greek
tēleskopos
far-seeing
tēle-
tele-
skopos
watcher
; see
spek-
in Indo-European roots.
---
telescope

Verb
(third-person singular simple present telescopes, present participle telescoping, simple past and past participle telescoped)
To slide or pass one within another, after the manner of the sections of a small telescope or spyglass.
To come into collision, as railway cars, in such a manner that one runs into another.
Origin
tele- +"Ž -scope. From Latin telescopium, from Ancient Greek τηλεσκόπος (tÄ"leskopos, "far-seeing"), from τῆλε (tÄ"le, "afar") + σκοπέω (skopeō, "I look at").
Coined in 1611 by the Greek mathematician Giovanni Demisiani for one of Galileo Galilei's instruments presented at a banquet at the Accademia dei Lincei.
---