scope

-scope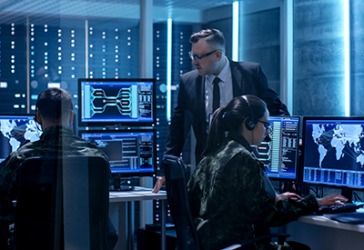 The scope of the investigation involved monitoring international cell phone activity.
noun
Scope is range of understanding, thought or action.

An example of scope is someone having the ability to run a marathon.
---
scope
the extent of the mind's grasp; range of perception or understanding: a problem beyond his scope
the range or extent of action, inquiry, etc., or of an activity, concept, etc.: the scope of a book
room or opportunity for freedom of action or thought; free play
telescope, microscope, radarscope, etc.

Naut.

the length of chain attaching a vessel to an anchor or mooring buoy

Now Rare

end; purpose
Origin of scope
Italian
scopo
from Classical Latin
scopus
, goal, target from Classical Greek
skopos
, a mark, spy, watcher from base of
skopein
, to see, altered by metathesis from Indo-European base an unverified form
spe?-
, to peer, look carefully from source spy, Classical Latin
specere
, to see
transitive verb
scoped

,

scop′ing
Slang

to look at or look into carefully; scrutinize; investigate; examine closely: often with out

Informal

to perform arthroscopic surgery on
-scope
an instrument, etc. for seeing or observing: telescope, retinoscope, kaleidoscope
Origin of -scope
Late Latin
-scopium
from Classical Greek
-skopion
from
skopein
: see scope
---
scope
noun
The range of one's perceptions, thoughts, or actions: broaden one's scope by reading.
The opportunity or possibility to function or be active: gave her imagination broad scope. See Synonyms at room.
The extent of a given activity or subject that is involved, treated, or relevant: the scope of the debate. See Synonyms at range.
The length or sweep of a mooring cable.
Linguistics The range over a part of a sentence or discourse that a quantifier has an effect on.
Origin of scope
Italian
scopo
aim, purpose
from
Greek
skopos
target, aim
; see
spek-
in Indo-European roots.
noun
Informal
A viewing instrument such as a periscope, microscope, or telescope.
transitive verb
scoped, scop·ing, scopes
To examine or investigate, especially visually: scoped the landscape for signs of wildlife.
To examine using an optical instrument such as a telescope or an endoscope: scoped the stars around Orion; scoped the patient's esophagus.
Phrasal Verbs:
scope out
To make a preliminary inspection or investigation of:
"That summer … she'd scoped out a big estate auction in Bennington and spotted a beautiful burnt-umber and deep-blue Chinese rug"
(
Janna Malamud Smith
)To seek by inspecting various possibilities:
"Some of the islanders are expert fishing guides, eagerly showing up at the airport for the weekly flight from Honolulu to scope out clients"
(
Paul Theroux
)
Origin of scope
From
-scope
(as in
microscope
periscope
etc.
)
Verb, probably from noun
(perhaps influenced by
scope
1
)
-scope
suffix
An instrument for viewing or observing: bronchoscope.
Origin of -scope
New Latin
-scopium
from
Greek
-skopion
from
skopein
to see
; see
spek-
in Indo-European roots.
---
scope

Verb
(third-person singular simple present scopes, present participle scoping, simple past and past participle scoped)
To perform a cursory investigation, as to scope out.
(slang) To perform arthroscopic surgery.

The surgeon will scope the football player's knee to repair damage to a ligament.

(slang) To examine under a microscope.

The entomologist explained that he could not tell what species of springtail we were looking at without scoping it.
---
scope - Computer Definition
(1) A range of IP addresses.
(2) In programming, the visibility of variables within a program; for example, whether one function can use a variable created in another function.
(3) A CRT screen, such as used on an oscilloscope or common display terminal.
(4) See search scope.
---