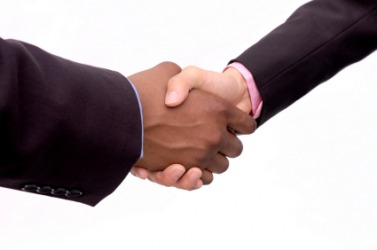 Two hands grasp in a handshake.
noun
The definition of grasp is a firm hold on something.

An example of grasp is a strong hold onto a banister.
verb
Grasp is defined as to have a firm hold on something.

An example of grasp is to tightly hold a rail.
An example of grasp is to fully understand a scientific concept.
---
grasp
to take hold of firmly with or as with the hand or arms; grip
to take hold of eagerly or greedily; seize
to take hold of mentally; understand; comprehend
Origin of grasp
Middle English
graspen
, by metathesis from an unverified form
grapsen
, probably from Middle Low German (as in LowG, Frisian
grapsen
), akin to Norwegian dialect, dialectal
grapsa
, to scratch, Old Norse
grapa
, to snatch: see grab
to reach for and try to seize: with at
to accept eagerly: with at
the act of grasping; grip or clasp of the hand or arms
a firm hold; control; possession
the power to hold or seize; reach
power of understanding; comprehension
---
grasp
verb
grasped, grasp·ing, grasps
verb
transitive
To take hold of or seize firmly with the hand, the foot, another body part, or an instrument: The elephant grasped the branch with its trunk.
To hold with the arms; embrace.
To take hold of intellectually; comprehend. See Synonyms at understand.
verb
intransitive
To make a motion of seizing, snatching, or clutching.
To show eager and prompt willingness or acceptance: grasps at any opportunity.
noun
The act of grasping.

a. A firm hold or grip.

b. An embrace.

The ability or power to seize or attain; reach: Victory in the election was within her grasp.
Understanding; comprehension: "only a vague intuitive grasp of the meaning of greatness in literature" ( Gilbert Highet )
Origin of grasp
Middle English
graspen
; see
ghrebh-
1
in Indo-European roots.
---
grasp

Verb
(third-person singular simple present grasps, present participle grasping, simple past and past participle grasped)
To grip; to take hold, particularly with the hand.
​To understand.

I have never been able to grasp the concept of infinity.
Noun
(plural grasps)
that which is accessible; that which is within one's reach or ability

The goal is within my grasp.
Origin
Originally "to feel around", possibly metathesis of Old English græpsan "to touch, feel," from Proto-Germanic *graipison.
Acronym
(software, object-oriented design) Acronym of General Responsibility Assignment Software Patterns (Principles).
---