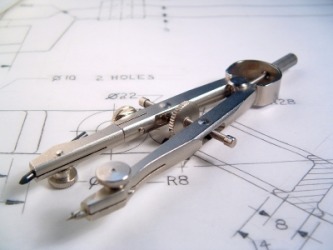 A compass lying on a set of architects drawings.
noun
The definition of a compass is a tool with two pointed legs connected by a hinge, one end with a writing device the other used as a stable pivot, used for drawing perfect circles and other things.

An example of compass is what an architect uses for drawing curves in a building plan.

A compass is defined as a device with magnetic needles used for showing the direction one is facing.

An example of a compass is what a backpacker would use to find their way through the woods.
verb
The definition of compass means to understand, grasp or fulfill.

An example of to compass is figuring out why your car won't start.
---
compass
Archaic

to go around; make a circuit of
encompass (sense )
to grasp mentally; understand; comprehend
to reach successfully; achieve; accomplish: to compass one's ends
to plot or contrive (something harmful)
Origin of compass
Middle English
compassen
from Old French
compasser,
to go around from Vulgar Latin an unverified form
compassare
from Classical Latin
com-,
together +
passus,
a step: see pace
[sometimes pl.] an adjustable instrument consisting of two arms connected at one end by a hinge, with typically one arm having a pencil or pen attached to its other end and the other arm ending in a point: used for drawing arcs and circles, measuring distances on a map, etc.
a boundary line; circumference
an enclosed area
full extent or range; reach; scope; specif., range of tones, as of a voice
any of various instruments for showing geographical direction, esp. one consisting of a magnetic needle swinging freely on a pivot and pointing to the magnetic north

Archaic

a circuit; course
Origin of compass
ME & OFr
compas,
a circle, prob. < the v.
round; circular or semicircular

---
compass
noun
a. A device used to determine geographic direction, usually consisting of a magnetic needle or needles horizontally mounted or suspended and free to pivot until aligned with the earth's magnetic field.

b. Another device, such as a radio compass or a gyrocompass, used for determining geographic direction.

A V-shaped device for describing circles or circular arcs and for taking measurements, consisting of a pair of rigid, end-hinged legs, one of which is equipped with a pen, pencil, or other marker and the other with a sharp point providing a pivot about which the drawing leg is turned. Also called pair of compasses .
Awareness or understanding of one's purpose or objectives: "Lacking a coherent intellectual and moral commitment,

[he]

was forced to find his compass in personal experience" ( Doris Kearns Goodwin )

a.

An enclosing line or boundary; a circumference:

outside the compass of the fence.

See Synonyms at

circumference

.

b. A restricted space or area: four huge crates within the compass of the elevator.

c.

Range or scope, as of understanding, perception, or authority:

The subject falls outside the compass of this study.

See Synonyms at

range

.

Music See range .
transitive verb
com·passed, com·pass·ing, com·pass·es
To make a circuit of; circle: The sailboat compassed the island.
To surround; encircle: The trees compass the grave.
To understand; comprehend: "God … is too great a profundity to be compassed by human cerebration" ( Flann O'Brian )

a. To accomplish or bring about: "He compassed his end only by the exercise of gentle violence" ( Henry James )

b. To gain or achieve: "She had compassed the high felicity of seeing the two men beautifully take to each another" ( Henry James )

To scheme; plot: compass the death of the king.
adjective
Forming a curve.
Origin of compass
Middle English
compas
circle, compass
from
Old French
from
compasser
to measure
from
Vulgar Latin
compassāre
to pace off
Latin
com-
com-
Latin
passus
step
; see
pace
1
.
Related Forms:
compass
compass
top: directional compass
bottom: bow compass
---
compass

Noun
(plural compasses)
A magnetic or electronic device used to determine the cardinal directions (usually magnetic or true north).
A pair of compasses (a device used to draw an arc or circle).
(music) The range of notes of a musical instrument or voice.
Addison

Their wisdom […] lies in a very narrow compass.

1913, D.H. Lawrence, Sons and Lovers, chapter 14

Clara thought she had never seen him look so small and mean. He was as if trying to get himself into the smallest possible compass.

Moderate bounds, limits of truth; moderation; due limits; used with within.
Shakespeare

This day I breathed first; time is come round, / And where I did begin, there shall I end; / My life is run his compass.
Verb
(third-person singular simple present compasses, present participle compassing, simple past and past participle compassed)
Adverb
(comparative more compass, superlative most compass)
(obsolete) In a circuit; round about.
Origin
For noun: from Middle English compas ("a circle, circuit, limit, form, a mathematical instrument"), from Old French compas, from Medieval Latin compassus ("a circle, a circuit"), from Latin com- ("together") + passus ("a pace, step, later a pass, way, route"); see pass, pace.
For verb: from Middle English compassen ("to go around, make a circuit, draw a circle, contrive, intend"), from Old French compasser; from the noun; see compass as a noun.
---