noun
The definition of a compass is a tool with two pointed legs connected by a hinge, one end with a writing device the other used as a stable pivot, used for drawing perfect circles and other things.

An example of compass is what an architect uses for drawing curves in a building plan.

A compass is defined as a device with magnetic needles used for showing the direction one is facing.

An example of a compass is what a backpacker would use to find their way through the woods.
verb
The definition of compass means to understand, grasp or fulfill.

An example of to compass is figuring out why your car won't start.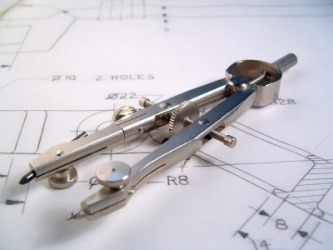 A compass lying on a set of architects drawings.
---
compass definition by Webster's New World
transitive verb
Archaic

to go around; make a circuit of
encompass (sense )
to grasp mentally; understand; comprehend
to reach successfully; achieve; accomplish: to compass one's ends
to plot or contrive (something harmful)
Origin: Middle English compassen ; from Old French compasser, to go around ; from Vulgar Latin an unverified form compassare ; from Classical Latin com-, together plush passus, a step: see pace
noun
an instrument consisting of two pointed legs connected at one end by a pivot, used for drawing arcs or circles or for taking measurements
a boundary line; circumference
an enclosed area
full extent or range; reach; scope; specif., range of tones, as of a voice
any of various instruments for showing direction, esp. one consisting of a magnetic needle swinging freely on a pivot and pointing to the magnetic north

Archaic

a circuit; course
Origin: ME & OFr compas, a circle, prob. < the v.
adjective
round; circular or semicircular
Webster's New World College Dictionary Copyright © 2010 by Wiley Publishing, Inc., Cleveland, Ohio. Used by arrangement with John Wiley & Sons, Inc.
---
compass definition by American Heritage Dictionary
noun
a. A device used to determine geographic direction, usually consisting of a magnetic needle or needles horizontally mounted or suspended and free to pivot until aligned with the earth's magnetic field.

b. Another device, such as a radio compass or a gyrocompass, used for determining geographic direction.

A V-shaped device for describing circles or circular arcs and for taking measurements, consisting of a pair of rigid, end-hinged legs, one of which is equipped with a pen, pencil, or other marker and the other with a sharp point providing a pivot about which the drawing leg is turned. Also called pair of compasses.

a.

An enclosing line or boundary; a circumference:

outside the compass of the fence.

See Synonyms at

circumference

.

b. A restricted space or area: four huge crates within the compass of the elevator.

c.

Range or scope, as of understanding, perception, or authority:

"Lacking a coherent intellectual and moral commitment,

[he]

was forced to find his compass in personal experience" (Doris Kearns Goodwin).

See Synonyms at

range

.

Music See range.
transitive verb
com·passed
,
com·pass·ing
,
com·pass·es
To make a circuit of; circle: The sailboat compassed the island.
To surround; encircle. See Synonyms at surround.
To understand; comprehend.
To succeed in carrying out; accomplish. See Synonyms at reach.
To scheme; plot.
adjective
Forming a curved configuration.
Semicircular. Used of bow windows.
Origin: Middle English compas, circle, compass, from Old French, from compasser, to measure, from Vulgar Latin *compassāre, to pace off : Latin com-, com- + Latin passus, step; see pace1.
Related Forms:
The American Heritage® Dictionary of the English Language, 4th edition Copyright © 2010 by Houghton Mifflin Harcourt Publishing Company. Published by Houghton Mifflin Harcourt Publishing Company. All rights reserved.
---
compass - Science Definition
A device used to determine geographical direction, usually consisting of a magnetic needle mounted on a pivot, aligning itself naturally with the Earth's magnetic field so that it points to the Earth's geomagnetic north or south pole.
A device used for drawing circles and arcs and for measuring distances on maps, consisting of two legs hinged together at one end.