capacity

ca·pac·i·ty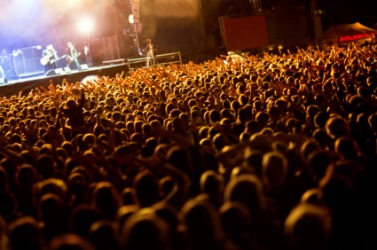 This theatre is filled to capacity.
noun
The definition of capacity is the ability of someone or something to hold something.

An example of capacity is how many people can fit in a room.
An example of capacity is the amount of water a cup can hold.
---
capacity
noun
pl.
-·ties
the ability to contain, absorb, or receive and hold

the amount of space that can be filled; room for holding; content or volume: a tank with a capacity of 21 gallons
the point at which no more can be contained: filled to capacity

the power of receiving and holding knowledge, impressions, etc.; mental ability
the ability or qualifications (for, or to do, something); aptitude
maximum output or producing ability: operating at capacity
the quality of being adapted (for something) or susceptible (of something); capability; potentiality
a condition of being qualified or authorized; position, function, status, etc.: acting in the capacity of an advisor

Elec.

capacitance

Law

legal authority or competence
Origin of capacity
Middle English and Old French
capacite
from Classical Latin
capacitas
from
capax
: see capacious
---
capacity
noun
pl.
ca·pac·i·ties
a. The ability to receive, hold, or absorb something: the storage capacity of a car's trunk.

b. The maximum amount that can be contained: a bin filled to capacity.

The power to learn or retain knowledge; mental ability.

a. The ability to do, make, or accomplish something; capability: a comedian's capacity for making people laugh.

b. The maximum or optimum amount that can be produced: factories operating below capacity.

The quality of being suitable for or receptive to specified treatment: the capacity of elastic to be stretched.
The position in which one functions; role: in your capacity as sales manager.
Legal qualification or authority: the capacity to make an arrest.
Electricity Capacitance.
adjective
Filling a space with the most it can hold: a capacity crowd at the concert.
Origin of capacity
Middle English
capacite
from
Old French
from
Latin
capācitās
from
capāx
capāc-
spacious
; see
capacious
.
---
capacity

---
capacity - Computer Definition

---
With regard to computer and information systems, capacity refers to the storage and transaction processing capability of computer systems, the network and/or the datacenter. See capacity on demand and storage capacity.
---
capacity - Legal Definition
n
The function, office, position, or role in which one acts.
A legal qualification, such as age, that determines one's ability to do something that has legal consequences (such as making a contract or getting married). Also called legal capacity.
The mental ability to perceive, understand, and appreciate all relevant facts, to make a rational decision based thereon, and to understand the nature and effect of one's actions. See also sane.
criminal capacity
The mental ability required to sufficiently distinguish right from wrong to hold a person liable for his criminal acts. See also
insanity
and
infancy
.
diminished capacity
Reduced mental ability caused by such factors as alcohol or drug use, disease, mental retardation, or injury, that prevents a person from sufficiently distinguishing right from wrong to hold them liable for his criminal acts. See also
insanity
.
testamentary capacity
. The mental ability a person must have at the time he signs a testamentary document, such as a will, for the instrument to be valid. Although it varies from state to state, it usually requires the person to understand who are the natural objects of his bounty, the nature and extent of his property, and the consequences of executing the document. See also mind.
---