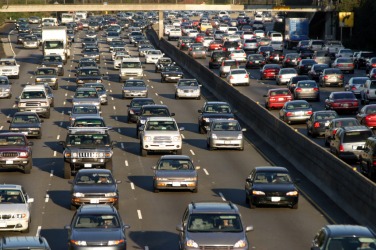 Los Angeles has a copious amount of automobiles.
adjective
The definition of copious is something of which there is a large amount.

An example of copious is the amount of cars that are in Los Angeles.
---
copious
very plentiful; abundant
wordy; profuse or diffuse in language
full of information
Origin of copious
Middle English from Classical Latin
copiosus
from
copia,
abundance from
co-,
together +
ops,
riches, power: see opus
---
copious
adjective
Yielding or containing plenty; affording ample supply: a copious harvest. See Synonyms at plentiful.
Large in quantity; abundant: copious rainfall.
Abounding in matter, thoughts, or words; wordy: "I found our speech copious without order, and energetic without rules" ( Samuel Johnson )
Origin of copious
Middle English
from
Latin
cōpiōsus
from
cōpia
abundance
; see
op-
in Indo-European roots.
Related Forms:
---
copious

---