replete

re·plete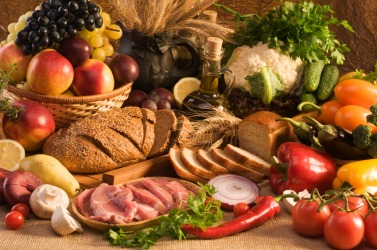 A table replete with food.
adjective
The definition of replete is abundantly filled, or gorged with food and drink.

An example of replete used as an adjective is the phrase a "replete supply of food" which means that plenty of food is available.
---
replete
well-filled or plentifully supplied
stuffed with food and drink; gorged
Origin of replete
Middle English from Old French
replet
from Classical Latin
repletus,
past participle of
replere
from
re-,
again +
plere,
to fill: see full
---
replete
adjective
Abundantly supplied; abounding: a stream replete with trout; an apartment replete with Empire furniture.
Filled to satiation; gorged.
Usage Problem Complete: a computer system replete with color monitor, printer, and software.
noun
A specialized worker in a honey ant colony that stores food in its distensible abdomen for later use by other members of the colony.
Origin of replete
Middle English
from
Old French
from
Latin
replētus
past participle of
replēre
to refill
re-
re-
plēre
to fill
; see
pelə-
1
in Indo-European roots.
Related Forms:
Usage Note: Replete means "abundantly supplied" and is not generally accepted as a synonym for complete.
---
replete

Adjective
(comparative more replete, superlative most replete)
Noun
(plural repletes)
A honeypot ant.
Verb
(third-person singular simple present repletes, present participle repleting, simple past and past participle repleted)
To restore something that has been depleted.
---