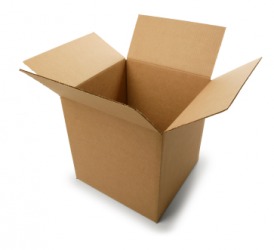 An empty box.
adjective
The definition of empty is having or containing nothing, or having no worth, meaning or value.

An example of something empty is a swimming pool with no water in it.
An example of something empty is a promise that cannot be delivered upon.
verb
Empty is defined as to remove all of something.

An example of empty is to pour all of the remaining milk into a bowl of cereal.
---
empty
adjective
-·tier

,

-·ti·est
containing nothing; having nothing in it
having no one in it; unoccupied; vacant: an empty house
carrying or bearing nothing; bare
having no worth or purpose; useless or unsatisfying: empty pleasure
without meaning or force; insincere; vain: empty promises

Informal

hungry
Origin of empty
Middle English
emti
and (with intrusive
-p-
)
empti
from Old English
æmettig
, unoccupied, literally , at leisure from
æmetta
, leisure ( from
æ-
, without + base of
motan
, to have to: see must) +
-ig
, -y
transitive verb
-·tied

,

-·ty·ing
to make empty

to pour out or remove (the contents) from something
to transfer (the contents) into, onto, or on something else

to unburden or discharge (oneself or itself)
to become empty
to pour out; discharge: the river empties into the sea
noun
pl.
-·ties
an empty freight car, truck, bottle, etc.
empty of
lacking; without; devoid of
run on empty
to be at a level of energy, creativity, etc. that is inadequate to sustain worthwhile activity or achievement
Origin of empty
by analogy with a car operating with very little fuel left in the tank and the gauge reading "
empty
"
---
empty
adjective
emp·ti·er, emp·ti·est
a. Having nothing inside or on the surface; holding or containing nothing: an empty bag; an empty lot.

b. Mathematics Having no elements or members; null: an empty set.

a. Having no occupants; not being used: an empty chair.

b. Not having an incumbent or occupant; unfilled: an empty post at the embassy.

c. Not put to purposeful use; idle: empty hours.

Lacking force or power: an empty threat.
Lacking purpose or substance; meaningless: an empty life.
Needing nourishment; hungry: "More fierce and more inexorable far / Than empty tigers or the roaring sea" ( Shakespeare )
Devoid; destitute: empty of pity.
verb
emp·tied, emp·ty·ing, emp·ties
verb
transitive
To remove the contents of: emptied the dishwasher.
To transfer or pour off completely: empty the ashes into a pail.
To unburden; relieve: empty oneself of doubt.
verb
intransitive
To become empty: The theater emptied after the performance.
To discharge its contents: The river empties into a bay.
noun
pl.
emp·ties
Informal
An empty container.
Origin of empty
Middle English
from
Old English
ǣmtig
vacant, unoccupied
from
ǣmetta
leisure
; see
med-
in Indo-European roots.
Related Forms:
---
empty

Adjective
(comparative emptier, superlative emptiest)
Devoid of content; containing nothing or nobody; vacant.

an empty purse; an empty jug; an empty stomach

(computing, programming) Containing no elements (as of a string or array), opposed to being null (having no valid value).
Shakespeare

I shall find you empty of that fault.

Having nothing to carry; unburdened.
Destitute of effect, sincerity, or sense; said of language.

empty words, or threats

Unable to satisfy; hollow; vain.

empty pleasures

Destitute of reality, or real existence; unsubstantial.

empty dreams

Destitute of, or lacking, sense, knowledge, or courtesy.

empty brains; an empty coxcomb
Verb
(third-person singular simple present empties, present participle emptying, simple past and past participle emptied)
(ergative) To make empty; to void; to remove the contents of.

to empty a well or a cistern
The cinema emptied quickly after the end of the film.
Noun
(plural empties)
A container, especially a bottle, whose contents have been used up, leaving it empty.

Put the empties out to be recycled.
Origin
From Middle English emty, from Old English ǣmtiġ, ǣmettiġ ("vacant, empty, free, idle, unmarried", literally "without must or obligation, leisurely"), from Proto-Germanic *uz- ("out") + Proto-Germanic *mōtijô, *mōtô ("must, obligation, need"), *mōtiþô ("ability, accommodation"), from Proto-Indo-European *med- ("measure; to acquire, possess, be in command"). Related to Old English ġeǣmtiġian ("to empty"), Old English ǣmetta ("leisure"), Old English mōtan ("must, might, have to"). More at mote, meet.
---