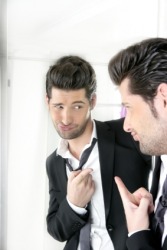 A vain man.
adjective
The definition of vain is someone or something without value, without force or who is conceited.

An example of vain is a promise that someone doesn't intend to keep.
An example of vain is an attempt to prune a bush only to have it removed the following day.
An example of vain is a person who constantly talks about how good looking they are.
---
vain
having no real value or significance; worthless, empty, idle, hollow, etc.: vain pomp
without force or effect; futile, fruitless, unprofitable, unavailing, etc.: a vain endeavor
having or showing an excessively high regard for one's self, looks, possessions, ability, etc.; indulging in or resulting from personal vanity; conceited

Archaic

lacking in sense; foolish
Origin of vain
Old French from Classical Latin
vanus,
empty, vain: see want
in vain
fruitlessly; vainly
lightly; profanely; irreverently
---
vain
adjective
vain·er, vain·est
Not yielding the desired outcome; fruitless: a vain attempt.
Lacking substance or worth: vain talk.
Having or showing excessive pride in one's appearance or accomplishments; conceited.
Archaic Foolish.
Origin of vain
Middle English
from
Old French
from
Latin
vānus
empty
; see
euə-
in Indo-European roots.
Related Forms:
---
vain

Adjective
(comparative vainer or more vain, superlative vainest or most vain)
Overly proud of oneself, especially concerning appearance; having a high opinion of one's own accomplishments with slight reason.
Having no real substance, value, or importance; empty; void; worthless; unsatisfying.
Effecting no purpose; pointless, futile.

vain toil; a vain attempt

Showy; ostentatious.
Origin
From Middle English, from Old French vain, from Latin vānus ("empty")
---