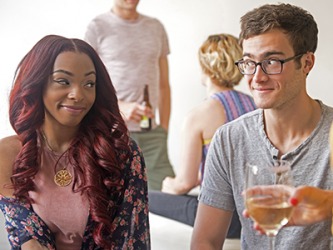 Daniel was too shy to ask April for her phone number even though he was pretty sure that she liked him.
adjective
Shy means something that happens shortly before, or that is just short of.

An example of shy is when you drop out of school right before you graduate.
An example of shy is when you have $1 and you need $2.

Shy describes someone who lacks in confidence or who is nervous or quiet in social situations.

An example of shy is a person who stands by herself at the back wall of a party and is too frightened to talk to anyone.
verb
Shy is defined as refraining from doing something, often out of fear or nervousness.

An example of shy is when you are scared to talk in public.
---
shy
adjective
shy′er

or

shi′er

,

shy′est

or

shi′est
easily frightened or startled; timid
not at ease with other people; extremely self-conscious; bashful
showing distrust or caution; wary
not bearing or breeding well, as some plants; unproductive

Slang

not having paid money due, as one's poker ante
lacking; short (on or of)
Origin of shy
Middle English
schei
, dialect, dialectal development from Old English
sceoh
, akin to German
scheu
, shy, probably from Indo-European an unverified form
skeuk-
, harassed (from source Old Church Slavonic
š?uti
, to pursue); akin to an unverified form
skeub-
from source scoff
intransitive verb
shied

,

shy′ing
to move suddenly as when startled; jump; start; recoil: the horse shied at the gunshot
to react negatively; be or become cautious or unwilling; draw back: often with at or from
noun
pl.
shies
an act of shying; start, as of a horse
fight shy of
to keep from; avoid; evade
transitive verb
intransitive verb
shied

,

shy′ing
to throw or fling, esp. sideways with a jerk: shying stones at a target
Origin of shy
from uncertain or unknown; perhaps
noun
pl.
shies
the act of shying; fling

Informal

a try or attempt

Informal

a gibe
---
shy
adjective
shi·er, shi·est,
or
shy·er
shy·est
Easily startled; timid: a shy deer.

a. Tending to avoid contact or familiarity with others; retiring or reserved: a shy student who stayed in the back of the room.

b. Characterized by reserve or diffidence: a shy glance.

Distrustful; wary: shy of strangers.
Not having a sufficient or specified amount, as of money: was shy $100 on his rent; was two victories shy of the school record.
intransitive verb
shied, shy·ing, shies,
To move suddenly or draw back, as if startled or afraid: The horse shied at the loud sound.
To avoid engaging in, treating, or discussing something: "a film adaptation that would not shy away from the novel's controversial themes" ( Scot French )
noun
pl.
shies,
A sudden movement, as from fright; a start.
Origin of shy
Middle English
schey
from
Old English
scēoh
Related Forms:
verb
shied, shy·ing, shies,
verb
transitive
To throw (something) with a swift motion; fling.
verb
intransitive
To throw something with a swift motion.
noun
pl.
shies,
A quick throw; a fling.
Informal A gibe; a sneer.
Informal An attempt; a try.
Origin of shy
Perhaps from
shy
1
---
shy

Adjective
(comparative shier or shyer, superlative shiest or shyest)
Easily frightened; timid.
Reserved; disinclined to familiar approach.

He is very shy with strangers.

Short, insufficient or less than.

By our count your shipment came up two shy of the bill of lading amount.
It is just shy of a mile from here to their house.
Usage notes
Often used in combination with a noun to produce an adjective or adjectival phrase.
Adjectives are usually applicable to animals (leash-shy "shy of leashes" or head shy "shy of contact around the head" (of horses)) or to children.
Verb
(third-person singular simple present shies, present participle shying, simple past and past participle shied)
(intransitive) To avoid due to timidness or caution.

I shy away from investment opportunities I don't understand.

(intransitive) To jump back in fear.

The horse shied away from the rider, which startled him so much he shied away from the horse.
Origin
From Middle English shy ("shy"), from Old English sÄ‹Ä"oh ("shy"), from Proto-Germanic *skiuhwaz ("shy, fearful"). Cognate with Dutch schuw ("shy"), German scheu ("shy"), Danish sky ("shy").
---