launch

launch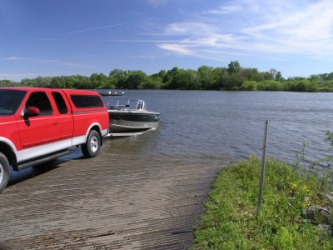 A boat being launched.
noun
The definition of a launch is an event at which something, such as a book or product, is presented to the public for the first time and is also the act of creating, presenting or promoting a new product.

An example of a launch is a book launch.
verb
To launch is defined as to set something in motion, to start something or to forcefully throw something.

An example of launch is when you push a boat into the water so it can go forward.
An example of launch is when you start a new line of jewelry.
An example of launch is when you send a football flying through the air.
---
launch
to hurl, discharge, or send off (a weapon, blow, etc.)
to send forth with some force: to launch a plane by catapult
to cause (a newly built vessel) to slide from the land into the water; set afloat
to set in operation; start, inaugurate, etc.: to launch an attack, launch a new ad campaign
to start (a person) on some course or career
Origin of launch
Middle English
launchen
from Old French
lanchier
from Ecclesiastical Late Latin
lanceare
, to wield a lance from Classical Latin
lancea
, lance
to put to sea: often with out or forth
to start on some new course or enterprise: often with out or forth
to throw oneself (into) with vigor; rush; plunge: to launch into a tirade
the act or process of launching
designating or of vehicles, facilities, sites, etc. used in the launching of spacecraft or missiles
Historical

the largest boat carried by a warship
an open, or partly enclosed, motorboat
Origin of launch
Spanish or Portuguese
lancha
from uncertain or unknown; perhaps Malay
lancharan
from
lanchar
, swift
---
launch
verb
launched, launch·ing, launch·es
verb
transitive
a. To throw or propel with force; hurl: launch a spear.

b. To set or thrust (a self-propelled craft or projectile) in motion: launch a rocket; launch a torpedo.

Nautical To put (a boat) into the water in readiness for use.
To set going; initiate: launch a career; launch a business venture. See Synonyms at begin.
To introduce to the public or to a market: launched the new perfume with prime-time commercials on the major networks.
To give (someone) a start, as in a career or vocation.
verb
intransitive
To begin a new venture or phase; embark: launch forth on a dangerous mission; launched out on her own after college.
To enter enthusiastically into something; plunge: launched into a description of the movie.
noun
The act of launching.
Origin of launch
Middle English
launchen
from
Old North French
lancher
from
Latin
lanceāre
to wield a lance
from
lancea
lance
; see
lance
.
noun
A large ship's boat.
A large, open motorboat.
Origin of launch
Probably alteration
(probably influenced by
launch
1
)
of
Malay
lancha
---
launch

---
launch - Computer Definition
---