adjective
Scrub means small, poor or inferior.

An example of scrub used as an adjective is in the phrase "a scrub vegetable," which means a dirty, rotting vegetable.
noun
The definition of a scrub is any person, animal or thing that is smaller in size, or the act of rubbing something really hard to clean it.

An example of a scrub is a stunted, scraggly plant.
An example of a scrub is an intense cleaning of a dirty bathtub.
verb
Scrub is defined as to clean by rubbing hard.

An example of to scrub is to rub a bathroom with a sponge and cleansing liquid really hard to get it clean.
YourDictionary definition and usage example. Copyright © 2013 by LoveToKnow Corp.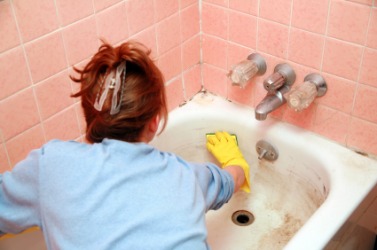 A woman scrubs her bathtub.
Licensed from iStockPhoto
---
noun
a scraggly, stunted tree or shrub
short, stunted trees, bushes, or shrubs growing thickly together
land covered with such growth

any animal or thing smaller than the usual, or inferior in quality, breed, etc.
any small or insignificant person

☆

Sports

a player not on the varsity squad or regular team
a secondary or practice team made up of such players
Origin: ME, variant, variety of shrubbe, shrub, influenced, influence uncertain or unknown; perhaps by Old Norse skroppa, a lean creature
adjective
mean; poor; inferior
undersized, undernourished, or stunted
☆

Sports

of or for the scrubs
transitive verb
scrubbed, scrubbing
to clean or wash by rubbing or brushing hard
to remove (dirt, etc.) by brushing or rubbing
to rub hard
to cleanse (a gas) of impurities

Informal

to cancel or call off (esp. a rocket launch before or during the countdown)
to get rid of; eliminate
Origin: Middle English scrobben, probably from Scand, as inch(es) Danish skrubbe, Norwegian dialect, dialectal skrubba, to rub hard, akin to Middle Low German schrubben from Indo-European base an unverified form (s)ker-, to cut from source scrape
intransitive verb
to clean something by rubbing, as with a brush
noun
the act of scrubbing
a person who scrubs
Webster's New World College Dictionary
Copyright © 2010 by Wiley Publishing, Inc., Cleveland, Ohio.
Used by arrangement with John Wiley & Sons, Inc.
---
verb
scrubbed
scrubbed
,
scrub·bing
,
scrubs
verb
, transitive
a. To rub hard in order to clean.

b. To remove (dirt or stains) by hard rubbing.

To remove impurities from (a gas) chemically.
Slang To cancel or abandon; drop: We had to scrub our plans for vacation.
verb
, intransitive
To clean or wash something by hard rubbing: Don't forget to scrub behind your ears.
noun
The act or an instance of scrubbing.
pl. scrubs The articles of clothing that make up a scrub suit.
Phrasal Verb:
scrub up
To wash the hands and arms thoroughly, as before performing or participating in surgery.
Origin: Middle English scrobben, to currycomb a horse, from Middle Dutch schrobben, to clean by rubbing, scrape; see sker-1 in Indo-European roots.
Related Forms:
noun
A straggly, stunted tree or shrub.
A growth or tract of stunted vegetation.
An undersized or poorly developed domestic animal.
An undersized or insignificant person.
Sports A player not on the varsity or first team.
Australian Remote rural land; the bush.
Origin: Middle English, variant of schrubbe; see shrub1.
The American Heritage® Dictionary of the English Language
, 4th edition Copyright © 2010 by Houghton Mifflin Harcourt Publishing Company. Published by Houghton Mifflin Harcourt Publishing Company. All rights reserved.
---
scrub - Computer Definition
Computer Desktop Encyclopedia
THIS DEFINITION IS FOR PERSONAL USE ONLY
All other reproduction is strictly prohibited without permission from the publisher.
© 1981-2014 The Computer Language Company Inc. All rights reserved.