mop

mop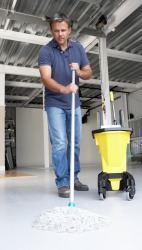 A man uses a mop.
noun
The definition of a mop is a stick with fabric strips or rope at the end that is used to clean floors, or anything that resembles that cleaning tool.

An example of a mop is a rope cleaning tool used to clean the kitchen floor.
An example of a mop is a shaggy hairstyle.
verb
To mop is to clean or wipe up with a cleaning tool.

An example of mop is to use a paper towel to wipe up a spill.
---
mop
a bundle of loose rags or strands of yarn, a sponge, etc. fastened to the end of a long stick, as for washing or wiping floors
anything suggestive of this, as a thick head of hair
Origin of mop
Early Modern English
mappe,
naut. term from uncertain or unknown; perhaps Walloon
mappe
from Classical Latin
mappa,
napkin: see map
transitive verb
mopped

,

mop′ping
to wash, rub, wipe, or remove with or as with a mop: often with up
mop up
Informal

to bring to an end; finish
to defeat completely

Mil.

to clear (an area) of isolated or scattered remnants of beaten enemy forces
to kill or capture (such remnants)

Informal

to finish a task
mop (up) the floor with
Slang
to defeat decisively
noun
intransitive verb
mopped

,

mop′ping
Origin of mop
from or akin to Middle Dutch
moppen,
Middle High German
muffen,
to grimace: for base see mope
---
mop
noun
A household implement made of absorbent material attached to a typically long handle and used for washing, dusting, or drying floors.
A loosely tangled bunch or mass: a mop of unruly hair.
verb
mopped, mop·ping, mops
verb
transitive
To wash or wipe with or as if with a mop: mopped the hallway; mopping the spilled water; mopped her forehead with a towel.
verb
intransitive
To use a mop to wash or dry surfaces: mopped along the baseboards.
Phrasal Verbs:
mop up
To clear (an area) of remaining enemy troops after a victory.
Informal
To perform the minor tasks that conclude a project or an activity.
Origin of mop
Early Modern English
map, mop
probably shortening of
Middle English
mappel
ultimately
(
perhaps via
Medieval Latin
mappula
table cloth
)
from
Latin
mappa
towel, cloth
; see
map
.
Related Forms:
---
mop

Noun
(plural mops)
An implement for washing floors, or the like, made of a piece of cloth, or a collection of thrums, or coarse yarn, fastened to a handle.
(humorous) A dense head of hair.

He ran a comb through his mop and hurried out the door.

(UK, dialect) A fair where servants are hired.
A made-up face; a grimace.
Verb
(third-person singular simple present mops, present participle mopping, simple past and past participle mopped)
To rub, scrub, clean or wipe with a mop, or as if with a mop.

to mop (scrub) a floor
to mop one's face with a handkerchief
---
mop - Computer Definition
(Millionaire On Paper) People who have wealth tied up in company stock options, which cannot be exercised until a certain date. During the dot-com boom, tens of thousands of MOPs were created, but many unfortunately never cashed in before the stock became worthless. See also MOPS.
---