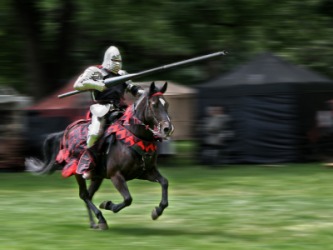 A knight carrying a lance.
noun
The definition of a lance is a sharp weapon made from a long thin handle with a spearhead.

An example of a lance is what medieval horsemen used as weapons in jousting.
verb
Lance is defined as to attack or pierce, or to cut open.

An example of lance is a doctor cutting open a boil.
---
lance
a thrusting weapon consisting of a long wooden shaft with a sharp metal spearhead
lancer
any sharp instrument resembling a lance, as a fish spear
a surgical lancet
Origin of lance
Old French from Classical Latin
lancea
, light spear, lance, origin, originally Spanish lance from Celtic
transitive verb
lanced

,

lanc′ing
to attack or pierce with or as with a lance
to cut open (a boil, etc.) with or as with a lancet
---
lance
noun
a. A thrusting weapon with a long wooden shaft and a sharp metal head.

b. A similar implement for spearing fish.

A cavalry lancer.
Medicine See lancet.
transitive verb
lanced, lanc·ing, lanc·es
To pierce with a lance.
Medicine To make a surgical incision in; cut into: lance a boil.
Origin of lance
Middle English
from
Old French
from
Latin
lancea
probably of Celtic origin
---
lance

---