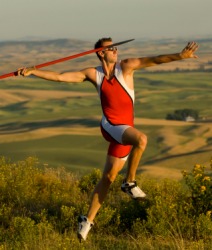 A man throwing a javelin.
Licensed from iStockPhoto
---
noun
a light spear for throwing

a pointed wooden or metal shaft, about 8 ft long, thrown for distance as a test of strength and skill
the throwing of the javelin as a field event in track and field meets
Origin: MFr javeline, feminine diminutive from javelot, a spear, probably from Gaulish an unverified form gabalaccos from Indo-European base an unverified form ghabh(o)lo-, forked branch, fork from source Old English gafol, German gabel
Webster's New World College Dictionary
Copyright © 2010 by Wiley Publishing, Inc., Cleveland, Ohio.
Used by arrangement with John Wiley & Sons, Inc.
---
noun
A light spear thrown with the hand and used as a weapon.
Sports

a. A metal or metal-tipped spear thrown for distance in track and field competitions. The men's javelin is about 2.6 meters (8 1/2 feet) in length; the women's is about 2.2 meters (7 1/4 feet) in length.

b. The athletic field event in which a javelin is thrown.
Origin: Middle English, from Old French javeline, diminutive of javelot, of Celtic origin.
The American Heritage® Dictionary of the English Language
, 4th edition Copyright © 2010 by Houghton Mifflin Harcourt Publishing Company. Published by Houghton Mifflin Harcourt Publishing Company. All rights reserved.