javelin
[jav′lin, jav′ə lin]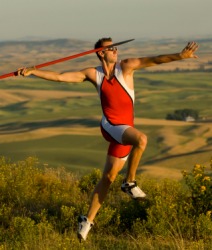 A man throwing a javelin.
---
javelin
noun
a light spear for throwing

a pointed wooden or metal shaft, about 8 ft long, thrown for distance as a test of strength and skill
the throwing of the javelin as a field event in track and field meets
Origin of javelin
Middle French
javeline,
feminine diminutive ; from
javelot,
a spear, probably ; from Gaulish an unverified form
gabalaccos
; from Indo-European base an unverified form
ghabh(o)lo-,
forked branch, fork from source Old English
gafol,
German
gabel
---
javelin
noun
A light spear thrown with the hand and used as a weapon.
Sports

a. A metal or metal-tipped spear thrown for distance in track and field competitions. The men's javelin is about 2.6 meters (8 1/2 feet) in length; the women's is about 2.2 meters (7 1/4 feet) in length.

b. The athletic field event in which a javelin is thrown.
Origin of javelin
Middle English, from Old French
javeline
, diminutive of
javelot
,
of Celtic origin
.
javelin
Marjaana Vare of Finland at the 2008 Paralympic Games
Beijing, China
---
javelin
Verb
(third-person singular simple present javelins, present participle javelining, simple past and past participle javelined)
To pierce with a javelin.
---