sport

sport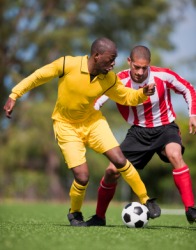 Two men playing a sport called soccer.
adjective
Sport means something used for athletic activities.

An example of sport is a drink formulated to supplement the nutritional needs of an athlete.
noun
The definition of a sport is a recreational or athletic activity.

An example of sport is soccer.
verb
Sport is defined as to wear, usually something that calls attention.

An example of sport is to wear red socks with pink shorts.
---
sport
any activity or experience that gives enjoyment or recreation; pastime; diversion
such an activity, esp. when competitive, requiring more or less vigorous bodily exertion and carried on, sometimes as a profession, according to some traditional form or set of rules, whether outdoors, as football, golf, etc., or indoors, as basketball, bowling, etc.
fun or play

Informal

a person who is sportsmanlike, easygoing, or companionable: be a sport!
a person judged according to his or her ability to take loss, defeat, teasing, etc.: a good (or poor) sport

Informal

a pleasure-loving, showy person

Obs.

amorous trifling or sexual play

Biol.

a plant or animal showing some marked variation from the normal type, usually as a result of mutation
Origin of sport
Middle English
sporte,
aphetic for disport
Informal
to wear or display, esp. with unnecessary show:
to sport a loud tie
to play or frolic
to engage in a sport or sports

to joke or jest
to trifle, dally, or play (with)

Biol.

to vary markedly from the normal type; mutate
sporting (sense )
suitable for informal or casual wear; not dressy: a sport shirt
in sport
in joke or jest; not in earnest
make sport of
to mock or ridicule; poke fun at
---
sport
noun
a. An activity involving physical exertion and skill that is governed by a set of rules or customs and often undertaken competitively.

b. often sports used with a sing. verb Such activities considered as a group: Sports is a good way for children to get exercise.

a.

A usually challenging activity undertaken for amusement:

"the sport of trying to eat

[a bratwurst]

with anything fewer than four paper napkins"

(

Jane Kramer

)

b. Fun; amusement: balanced on the curb just for the sport of it.

a. Mockery; jest: He made sport of his own looks.

b. An object of mockery, jest, or play: treated our interests as sport.

c. A joking mood or attitude: She made the remark in sport.

a. One known for the manner of one's acceptance of rules, especially of a game, or of a difficult situation: a poor sport.

b. Informal A fair-minded person, especially one who accepts teasing or difficult situations well: Be a sport and show me where you caught those fish.

c. Informal A pleasant companion: was a real sport during the trip.

Informal

a. A person who lives a jolly, extravagant life.

b. A gambler at sporting events.

Biology An organism or a part of an organism that shows a marked change from the parent type, typically as a result of mutation.
Obsolete Amorous dalliance; lovemaking.
verb
sport·ed, sport·ing, sports
verb
intransitive
To play or frolic: children sporting in the waves.
To joke or trifle: "Lear … in a storm, half mad, sported with by the gods" ( Cynthia Ozick )
verb
transitive
To wear or have on one's body, especially prominently or ostentatiously: sports diamond earrings; sports a tattoo.
To have as a prominent feature: a car sporting a new paint job.
adjective
or
sports
Of, relating to, or appropriate for sports: sport fishing; sports equipment.
Designed or appropriate for outdoor or informal wear: a sport shirt.
Origin of sport
Middle English
sporte
short for
disporte
from
Old French
desport
pleasure
from
desporter
to divert
; see
disport
.
Related Forms:
---
sport

Acronym
Strategic Partnership On REACH Testing
---