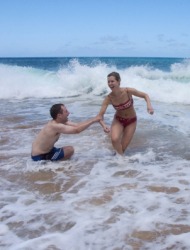 Two people cavorting in the waves.
verb
The definition of cavort means to jump, dance or play in a happy way.

Skipping down the street is an example of to cavort.
Playfully pillow fighting is an example of to cavort.
---
cavort
to leap about; prance or caper
to romp about happily; frolic
Origin of cavort
earlier
cavaut
; probably from
ca-
, colloquial intensive prefix ( from uncertain or unknown; perhaps German
ge-
) + vault
---
cavort
intransitive verb
ca·vort·ed, ca·vort·ing, ca·vorts
To bound or prance about in a sprightly manner; caper.
To have lively or boisterous fun; romp: The children cavorted in the water, splashing and ducking each other.
Origin of cavort
Possibly alteration of
curvet
---
cavort

Verb
(third-person singular simple present cavorts, present participle cavorting, simple past and past participle cavorted)
(intransitive) To move about carelessly, playfully or boisterously.
Origin
Originated in the United States in 1793, as cauvaut, applying to horses, probably from the colloquial intensifying prefix ca- + vault ("jump, leap"); later generalized. Early sources connect it to cavault, a term for a certain demeanor of horses.
---