noun
Lark means a small or medium-sized bird with a very long hind claw and known for its songs.

An example of a lark is the meadowlark.

The definition of a lark is a prank or a free-spirited adventure.

An example of a lark is leaving a whoopee cushion on someone's chair.
An example of a lark is what the couple were on when they decided to get married in Las Vegas.
verb
To lark is defined as to have fun and play silly tricks.

An example of lark is to decorate a newlywed's car.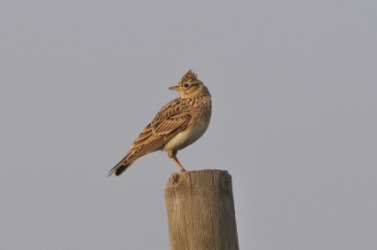 A sky lark perches on a pole.
---
lark definition by Webster's New World
noun
any of a large family (Alaudidae) of chiefly Old World passerine birds, including the skylark and horned lark
any of various birds from other families, as the meadowlark
Origin: Middle English lark, laverke ; from Old English laferce, older læwerce, akin to German lerche (OHG lērahha), Old Norse lævirki (Dan lerke)
intransitive verb
to play or frolic; have a merry time
to cause one's horse to jump fences, etc. unnecessarily
Origin: uncertain or unknown; perhaps alteration (infl. by lark) of northern dialect, dialectal lake ; from Middle English laike, to play ; from Old Norse leika and amp; Old English lacan, akin to Gothic laikan, to hop, leap ; from Indo-European base an unverified form leig-, an unverified form loig-, to hop from source Sanskrit rḗjatē, (he) hops, quivers
noun
a frolic or spree
a merry prank
---
lark definition by American Heritage Dictionary
noun
Any of various chiefly Old World birds of the family Alaudidae, especially the skylark, having a sustained, melodious song.
Any of several similar birds, such as the meadowlark.
Origin: Middle English laveroc, larke, from Old English lāwerce.
noun
A carefree or spirited adventure.
A harmless prank.
intransitive verb
larked
,
lark·ing
,
larks
To engage in spirited fun or merry pranks.
Origin: Short for skylark, to frolic, or alteration of dialectal lake, play (from Middle English leik, laik, from Old Norse leikr).
Related Forms:
The American Heritage® Dictionary of the English Language, 4th edition Copyright © 2010 by Houghton Mifflin Harcourt Publishing Company. Published by Houghton Mifflin Harcourt Publishing Company. All rights reserved.
---
lark - Phrases/Idioms