noun
The definition of a lake is a natural or man-made body of water that is surrounded by land.

An example of a lake is Lake Erie or Lake Ontario.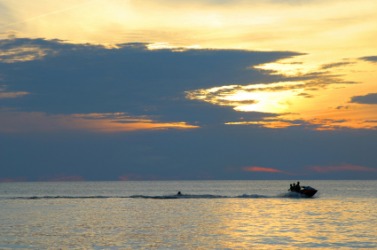 Lake Erie is a large lake.
---
lake definition by Webster's New World
noun
an inland body of usually fresh water, larger than a pool or pond, generally formed by some obstruction in the course of flowing water
a pool of oil or other liquid
Origin: Middle English ; from Old English lacu and amp; Old French lac, both ; from Classical Latin lacus, a basin, lake ; from Indo-European base an unverified form laku-, accumulation of water, pond, lake from source loch, Old English lagu, water, sea
noun
a dark-red pigment prepared from cochineal
its color

an insoluble coloring compound precipitated from a solution of a dye by adding a metallic salt, which acts as a mordant: used in applying dyes to cloth and in printing inks, paints, etc.
Origin: French laque: see lac
Lake, Simon 1866-1945; U.S. engineer & naval architect
Webster's New World College Dictionary Copyright © 2010 by Wiley Publishing, Inc., Cleveland, Ohio. Used by arrangement with John Wiley & Sons, Inc.
---
lake definition by American Heritage Dictionary
noun
A large inland body of fresh water or salt water.
A scenic pond, as in a park.
A large pool of liquid: a lake of spilled coffee on my desk.
Origin: Middle English, from Old French lac and from Old English lacu, both from Latin lacus.
noun
A pigment consisting of organic coloring matter with an inorganic, usually metallic base or carrier, used in dyes, inks, and paints.
A deep red.
Origin: From French laque; see lac.
or Lake of or Loch
For the names of actual lakes, see the specific element of the name; for example, Erie, Lake; Lucerne, Lake of; Lomond, Loch.
The American Heritage® Dictionary of the English Language, 4th edition Copyright © 2010 by Houghton Mifflin Harcourt Publishing Company. Published by Houghton Mifflin Harcourt Publishing Company. All rights reserved.
---
lake - Science Definition
A large inland body of standing fresh or salt water. Lakes generally form in depressions, such as those created by glacial or volcanic action; they may also form when a section of a river becomes dammed or when a channel is isolated by a change in a river's course.