variation

var·i·a·tion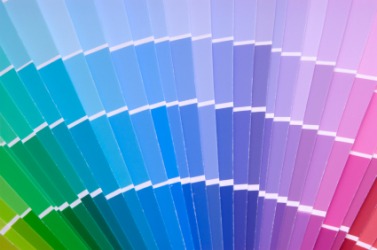 Variations in color.
noun
Variation is how much something differs from another.

An example of variation is light blue to dark blue.
---
variation
the act, fact, or process of varying; change or deviation in form, condition, appearance, extent, etc. from a former or usual state, or from an assumed standard
the degree or extent of such change

declination (sense 3)
a thing that is somewhat different from another of the same kind

Astron.

a change in or deviation from the mean motion or orbit of a planet, satellite, etc.

Ballet

a solo dance

Biol.

a deviation from the usual or parental type in structure or form
an organism showing such deviation

Math.

the manner in which two or more quantities change relative to one another

Music

the repetition of a theme or musical idea with changes or embellishments in harmony, rhythm, key, etc., esp. any of a series of such repetitions developing a single theme
Origin of variation
Middle English
variacion
from Old French from Classical Latin
variatio
---
variation
noun
a. The act, fact, or process of varying.

b. The extent or degree to which something varies: a variation of ten pounds in weight.

Something different from another of the same type: told a variation of an old joke. See Synonyms at difference.
Magnetic declination.
Biology The existence within a species or other group of organisms of differences in form, function, or behavior, especially when hereditary.
Mathematics A function that relates the values of one variable to those of other variables.
Music

a. A form that is an altered version of a given theme, diverging from it by melodic ornamentation and by changes in harmony, rhythm, or key.

b. One of a series of forms based on a single theme.

A solo dance, especially one forming part of a larger work.
Related Forms:
var′i·a′tion·al

adjective
---
variation

Noun
(usually uncountable, plural variations)
The act of varying; a partial change in the form, position, state, or qualities of a thing
A related but distinct thing.

when the process didn't work, we tried a variation;  all of his songs are variations on a single theme

(nautical) The angular difference at the vessel between the direction of true north and magnetic north. Also called magnetic declination.
(board games) A line of play that differs from the original.
(music) A technique where material is repeated with alterations to the melody, harmony, rhythm, timbre, texture, counterpoint or orchestration; but with some invariant characteristic, e.g. a ground bass.
---