noun
Variety is an assortment or the state of having many different things.

An example of variety is when you have purple flowers, blue flowers, green flowers and flowers of a whole bunch of other colors.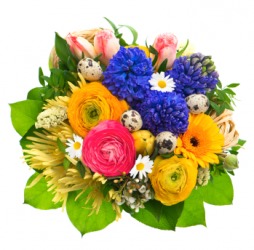 A variety of flowers.
---
variety definition by Webster's New World
noun
pl.
varieties
the state or quality of being various or varied; absence of monotony or sameness
a different form of some thing, condition, or quality; sort; kind: varieties of cloth
a number of different things thought of together; collection of varied things: a variety of items in the attic

Brit.

variety show

Biol., loosely

a group having characteristics of its own within a species or subspecies; subdivision of a species

Bot.

a variant form of wild plants that has been recognized as a true taxon ranking below subspecies, even though it may have been brought under cultivation: e.g., cabbage (Brassica oleracea var. capitata)

Zool.

any of a group of widely separated variants within a single interbreeding population
Origin: French variété ; from Classical Latin varietas
adjective
of or in a variety show
Webster's New World College Dictionary Copyright © 2010 by Wiley Publishing, Inc., Cleveland, Ohio. Used by arrangement with John Wiley & Sons, Inc.
---
variety definition by American Heritage Dictionary
noun
pl.
va·ri·e·ties
The quality or condition of being various or varied; diversity.
A number or collection of varied things, especially of a particular group; an assortment: brought home a variety of snacks.
A group that is distinguished from other groups by a specific characteristic or set of characteristics.
Biology

a. A taxonomic subdivision of a species consisting of naturally occurring or selectively bred populations or individuals that differ from the remainder of the species in certain minor characteristics.

b. An organism, especially a plant, belonging to such a subdivision.

A variety show.
Origin: French variété, from Old French, from Latin varietās, varietāt-, from varius, various.