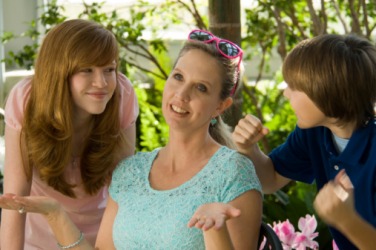 Her children's skills of persuasion causes her to give in to them too often.
noun
Persuasion is defined as the act of trying to convince someone of something, or the means of convincing someone to do something.

When someone lists all the reasons why you should do something, this is an example of persuasion.
---
persuasion
a persuading or being persuaded
power of persuading
a strong belief; conviction

a person's particular religion
a particular sect, party, group, etc.

Informal

kind, sort, sex, etc.: used jocularly
Origin of persuasion
Middle English from Classical Latin
persuasio
from past participle of
persuadere
---
persuasion
noun
The act of persuading or the state of being persuaded: "The persuasion of a democracy to big changes is at best a slow process" ( Harold J. Laski )
The ability or power to persuade: "Three foremost aids to persuasion which occur to me are humility, concentration, and gusto" ( Marianne Moore )
A strongly held opinion; a conviction: "He had a strong persuasion that Likeman was wrong" ( H.G. Wells )

a. A body of religious beliefs; a religion: worshipers of various persuasions.

b. A party, faction, or group holding to a particular set of ideas or beliefs.

Informal Kind; sort: "the place where … rockers of any gender or persuasion can become megastars" ( Christopher John Farley )
Origin of persuasion
Middle English
from
Old French
from
Latin
persuāsiō
persuāsiōn-
from
persuāsus
past participle of
persuādēre
to persuade
; see
persuade
.
---
persuasion

Noun
(plural persuasions)
The act of persuading, or trying to do so; the addressing of arguments to someone with the intention of changing their mind or convincing them of a certain point of view, course of action etc. [from 14th c.]
An argument or other statement intended to influence one's opinions or beliefs; a way of persuading someone. [from 14th c.]
A strongly held conviction, opinion or belief. [from 16th c.]

It is his persuasion that abortion should never be condoned.

One's ability or power to influence someone's opinions or feelings; persuasiveness. [from 16th c.]
(colloquial) Any group having a specified characteristic or attribute in common. [from 19th c.]
Origin
From Middle French persuasion and its source, Latin persuasio, from persuadere, from suadere ("to advise, recommend").
---