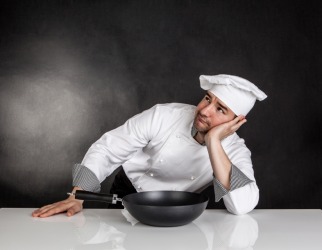 A chef waits for an idea.
noun
The definition of an idea is a thought, belief, opinion or plan.

An example of idea is a chef coming up with a new menu item.
---
idea
something one thinks, knows, or imagines; a thought; mental conception or image; notion
an opinion or belief
a plan; scheme; project; intention; aim
a hazy perception; vague impression; fanciful notion; inkling
meaning or significance

Music

a theme or figure

Philos.

according to Plato, any of the unchanging, eternal, intelligible models or archetypes of which all material things are only imperfect imitations and from which their existence derives: in modern philosophy, used variously to mean the immediate object of thought, absolute truth, etc.
Origin of idea
Classical Latin from Gr, form or appearance of a thing as opposed to its reality from Indo-European an unverified form
widswo-
from base an unverified form
weid-
, to see, know from source Classical Latin
videre
, to see, Classical Greek
idein
, to see, Old English
witan
, to know
---
idea
noun
Something, such as a thought or conception, that is the product of mental activity.
An opinion, conviction, or principle: has some strange political ideas.
A plan, purpose, or goal: She started school with the idea of becoming a doctor.
The gist or significance: The idea of the article is that investing in green technology can save you money in the long run.
A sense that something can happen; a notion or expectation: They have this idea that we can just drop what we're doing and go to the park.
Music A theme or motif.
Philosophy

a. In the philosophy of Plato, an archetype of which a corresponding being in phenomenal reality is an imperfect replica.

b. In the philosophy of Kant, a concept of reason that is transcendent but nonempirical.

c. In the philosophy of Hegel, absolute truth; the complete and ultimate product of reason.

Obsolete A mental image of something remembered.
Origin of idea
Middle English
from
Latin
from
Greek; see
weid-
in Indo-European roots.
Related Forms:
---
idea

Noun
(plural ideas or ideæ)
Origin
From Latin idea ("a (Platonic) idea; archetype"), from Ancient Greek ἰδέα (idéa, "notion, pattern"), from εἴδω (eidō, "I see"), cognate with French ideé.
---
idea - Computer Definition
(International Data Encryption Algorithm) A secret key cryptography method that uses a 128-bit key. Introduced in 1992, its European patent is held by Ascom-Tech AG, Solothurn, Switzerland. Written by Xuejia Lai and James Massey, it uses the block cipher method that breaks the text into 64-bit blocks before encrypting them. See PGP.
---