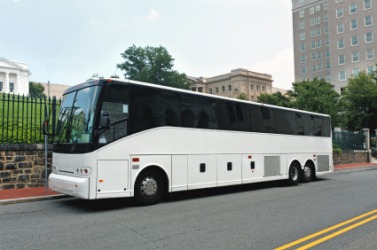 A bus is a type of vehicle.
noun
The definition of a vehicle is a type of transportation or a way that something is conveyed.

An example of vehicle is a bus.
An example of vehicle is the Internet as a means of communication.
---
vehicle
any device or contrivance for carrying or conveying persons or objects, esp. over land or in space, as an automobile, bicycle, sled, or spacecraft
a means by which thoughts are expressed or made known: music as the vehicle for one's ideas
in a metaphor, that word or term whose usual, literal meaning is applied in a figurative, nonliteral way to the tenor (sense ): in "all the world's a stage", "world" is the tenor and "stage" is the vehicle
a play, film, etc. thought of as a means of communication or as a means of presenting a specified actor or company

Painting

a liquid, as water or oil, with which pigments are mixed for use

Pharmacy

a substance, as a syrup, in which medicines are given
Origin of vehicle
French
véhicule
from Classical Latin
vehiculum,
carriage from
vehere,
to carry: see way
---
vehicle
noun
a. A device or structure for transporting persons or things; a conveyance: a space vehicle.

b. A self-propelled conveyance that runs on tires; a motor vehicle.

A medium through which something is transmitted, expressed, or accomplished: His novels are a vehicle for his political views.
The concrete or specific word or phrase that is applied to the tenor of a metaphor and gives the metaphor its figurative power, as walking shadow in "Life's but a walking shadow" ( Shakespeare )
A play, role, or piece of music used to display the special talents of one performer or company.
An inactive substance that is combined with an active medication to facilitate administration.
A substance, such as oil, in which paint pigments are mixed for application.
Origin of vehicle
Latin
vehiculum
from
vehere
to carry
; see
wegh-
in Indo-European roots.
---
vehicle

---