carrier

car·ri·er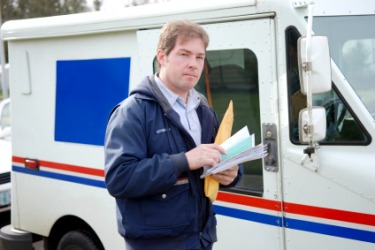 This man is a mail carrier.
noun
The definition of a carrier is a person, thing or company that delivers something.

An example of a carrier is a postal worker who delivers mail.
An example of a carrier is a cat carrier that you would use to take your cat to the vet.
An example of a carrier is the company such as AT&T that provides your telephone service.
---
carrier
a person or thing that carries, as one who delivers mail or newspapers, or a train, bus, airplane, etc.

a person or company in the business of transporting goods or passengers
a company in the business of providing telephone or data services

a messenger or porter
a container, support, or course in or on which something is carried or conducted, as a mechanical part or device or a water conduit
any of various contrivances for carrying a baby or small pet, specif.,

a portable, basketlike seat for a baby, with a handle
a sling worn around the upper body of an adult and designed to hold a baby against the adult's torso
a plastic cage or basket, a nylon bag, etc., designed for transporting a pet

a company that insures a certain person, organization, etc.
aircraft carrier
a person or animal that carries and transmits disease germs or recessive genes, esp. a person who does not seem to be affected by them

Chem.

a catalytic agent that causes an element or radical to be transferred from one compound to another
a body which supports the catalyst deposited in or on it
a relatively large quantity of a stable substance that is combined with a minute quantity of an isotope, esp. one that is a radioactive tracer, to facilitate its handling

Electronics

an electron, ion, hole, etc. whose movement constitutes a flow of electric current
the steady transmitted wave whose amplitude, frequency, or phase is modulated by the signal
Origin of carrier
Middle English
carier
from
carien
, carry
---
carrier
noun
One that transports or conveys: baggage carriers; a message carrier.
One, such as a person, business, or organization, that deals in the transport of passengers or goods.
A mechanism or device by which something is conveyed or conducted.
Medicine A person or animal that shows no symptoms of a disease but harbors the infectious agent of that disease and is capable of transmitting it to others.
Genetics An individual that carries one gene for a particular recessive trait. A carrier does not express the trait but, when mated with another carrier, can produce offspring that do.
Physics A boson, especially a gauge boson, that conveys a force or mediates an interaction between subatomic particles.
Electronics

a. A carrier wave.

b. A charge-carrying entity, especially an electron or a hole in a semiconductor.

An aircraft carrier.
An insurance or underwriting organization.
A telecommunications company.
---
carrier

Noun
(plural carriers)
A person or object that carries someone or something else.

aircraft carrier
armored personnel carrier

A carrier pigeon, a newspaperese term (misnomer) for a homing pigeon, racing pigeon, racing homer, homer.
An Old English carrier pigeon or Old English carrier (the "King of the Doos").
A person or company in the business of shipping freight.
A person or animal that transmits a disease to others without itself contracting the disease.
A mobile network operator; wireless carrier.
An inert material added to an active ingredient to aid in the application and/or the effectiveness of active ingredient.
A certified airline.
(engineering) That which drives or carries.
Usage notes
The term carrier pigeon is often used, especially in newspaper and magazine articles, for a homing pigeon or racing pigeon that carries messages. Many pigeon fanciers (particularly homer men and homer women) consider this to be a misnomer because the term is outdated and originally referred to the ancestors of present-day Old English carriers. These "carrier pigeons" were formerly used to carry messages before the modern homing pigeon was developed in the 1800s (initially in Belgium and Britain), but is today strictly an exhibition pigeon or show pigeon that has mostly lost its strong homing instinct. The "carrier pigeon" was also one of the breeds used to develop the modern homing pigeon and therefore does have some "carrier blood" in it.
Proper noun
A Northern Athabaskan language spoken in Canada. Sometimes considered to be three separate languages; Southern Carrier, Northern Carrier and Central Carrier
---
carrier - Computer Definition

A continuous signal, or waveform, at a certain frequency on a circuit, or within a certain frequency range, and that can be modulated to support an information-bearing signal. In other words, the carrier carries the information signal, which the transmitter impresses on the carrier by varying the signal in some fashion. The carrier also can support signaling and control information used to coordinate and manage various aspects of network operations, although signaling and control can also occur over a subcarrier frequency. A carrier also is known as a carrier wave.
A company that provides information transport services. For example, a Local Exchange Carrier (LEC) provides local information transport services, and an Interexchange Carrier (IEC or IXC) provides transport services between LECs. A heavy carrier is facilities-based, i.e., owns the switching and transmission systems that comprise the network it uses to provide services to its customers.A light carrier is not facilities-based, i.e., leases rather than owns the network it uses to provide services.A common carrier provides message transport services to the general public and generally is regulated to a considerable extent, at least with respect to fundamental aspects of service such as availability and basic rates. See also common carrier, IXC, and LEC.
---
(1) An organization that provides communications and networking services. See common carrier, private carrier and MVNO.
(2) A waveform that has a fixed center frequency. It is used to contain data and establish a unique channel that can be identified independently of other channels. Carriers are the primary method used to send wireless signals over the air in order to differentiate between transmitting stations. For example, AM and FM radio, TV, satellite and Wi-Fi all use carriers. In fact, AM and FM radio actually use the carrier frequency as their station's channel number. Multiple Carriers - Multiple Data Streams Carriers are also used to transmit multiple channels simultaneously within a wire or fiber. For example, several voice, data and video signals can travel over the same line, each residing in its own carrier vibrating at a different frequency. See definition #2 in broadband. Multiple Carriers - One Data Stream Instead of sending a separate stream of data in each carrier, multiple carriers can be used for only one channel of data. For example, the widely used orthogonal frequency division multiplexing (OFDM) method uses numerous subcarriers for only one transmitting channel and one stream of data (see OFDM). See modulation and subcarrier.
---
carrier - Legal Definition
n
A person or commercial enterprise (such as an airline) in the business of transporting people or goods.
common carrier
. A carrier who is legally required to accept all business from the public, so long as the approved fee for the transport of passengers or freight is paid.
private carrier
A carrier who is not legally required to accept business from the public, but who is hired in particular cases to deliver passengers or goods.
---