bearer

bear·er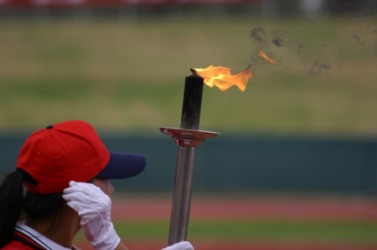 A torch bearer.
noun
The definition of bearer is a person who carries things, or is a fruit producing plant.

An example of a bearer is a doorman at an upscale hotel.
An example of a bearer is an apple tree.
---
bearer
a person or thing that bears, carries, or supports
a plant or tree that produces fruit or blooms

Rare

a pallbearer
a person presenting for payment a check, note, money order, etc.
payable to the bearer: bearer bonds
---
bearer
noun
One that carries or supports, as:

a. A porter.

b. A pallbearer.

One that holds a check or other redeemable note for payment.
A fruit- or flower-bearing plant.
---
bearer

Noun
(plural bearers)
One who, or that which, bears, sustains, or carries.
Someone who helps carry the coffin or a dead body during a funeral procession; pallbearer.

One who possesses a cheque, bond, or other notes promising payment.

I promise to pay the bearer on demand.

(India, dated) A domestic servant or palanquin carrier.
A tree or plant yielding fruit.

a good bearer

(printing) A strip of reglet or other furniture to bear off the impression from a blank page.
---
bearer - Legal Definition
n
A person in possession of a negotiable instrument, document of title, security, or other similar document that is marked "payable to bearer" or is indorsed in blank. Depending upon its nature, the document is called a bearer bond, bearer instrument, bearer paper, or the like and, if it is for the payment of money, it is said to be payable to bearer.
---