noun
The definition of a breed is a group of animals that has a specific characteristic or trait.

The beagle is an example of a dog breed.
verb
To breed is to cause reproduction by controlled mating to achieve a desired trait, or to cause something to happen over time.

When you mate two dogs together in order to create a pure bred dog, this is an example of a situation where you breed dogs.
When you foster resentment over time by constantly complaining, this is an example of a situation where you breed resentment.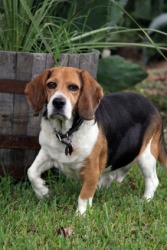 A beagle is one breed of dog.
---
breed
transitive verb
bred, breeding
to bring forth (offspring) from the womb or hatch (young) from the egg
to be the source of; produce: ignorance breeds prejudice

to cause to reproduce; raise, esp. by controlled mating: to breed dogs
to produce (plants) by selective pollination
to mate with
to develop (a stock or certain characteristics in it) by such mating or pollination

to bring up, train, or educate: he was bred to be a gentleman
to produce (fissile material) in a breeder reactor
Origin of breed
Middle English
breden
; from Old English
bredan
; from
brod
, fetus, hatching: see brood
intransitive verb
to be produced; originate: crime breeds in slums
to bring forth offspring; reproduce
noun
a group, or stock, of animals or plants descended from common ancestors and having similar characteristics, esp. such a group cultivated by humans
a kind; sort; type: men of the same breed
---
breed
verb
bred
bred
,
breed·ing
,
breeds
verb
, transitive
To produce (offspring); give birth to or hatch.
To bring about; engender: "Admission of guilt tends to breed public sympathy" (Jonathan Alter).

a. To cause to reproduce, especially by controlled mating and selection: breed cattle.

b. To develop new or improved strains in (organisms), chiefly through controlled mating and selection of offspring for desirable traits.

c. To inseminate or impregnate; mate with.

To rear or train; bring up: a writer who was bred in a seafaring culture.
To be the place of origin of: Austria breeds great skiers.
To produce (fissionable material) in a breeder reactor.
verb
, intransitive
To produce offspring.
To copulate; mate.
To originate and develop: Mischief breeds in bored minds.
noun
A group of organisms having common ancestors and certain distinguishable characteristics, especially a group within a species developed by artificial selection and maintained by controlled propagation.
A kind; a sort: a new breed of politician; a new breed of computer.
Offensive A person of mixed racial descent; a half-breed.
Origin of breed
Middle English
breden
, from Old English
brēdan
; see
bhreu-
in Indo-European roots.
---
breed
---