noun
Hybrid is defined as something that is a combination of two different things.

An example of hybrid is a car that runs on gas and electricity.
An example of hybrid is a rose that is made from two different types of roses.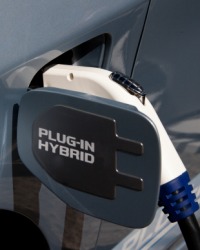 A car that runs on both electricity and gas is a hybrid.
---
hybrid
noun
the offspring produced by crossing two individuals of unlike genetic constitution; specif., the offspring of two animals or plants of different races, varieties, species, etc.
anything of mixed origin, unlike parts, etc.

Linguis.

a word made up of elements originally from different languages, as companionway
Origin of hybrid
Classical Latin
hybrida
, offspring of mixed parentage
adjective
of, or having the nature of, a hybrid
---
hybrid
noun
Genetics The offspring of genetically dissimilar parents or stock, especially the offspring produced by breeding plants or animals of different varieties, species, or races.

a. Something of mixed origin or composition, such as a word whose elements are derived from different languages.

b. Something having two kinds of components that produce the same or similar results, such as a vehicle powered by both an electric motor and an internal combustion engine as sources of power for the drivetrain.
Origin of hybrid
Latin
hibrida, hybrida
,
mongrel
.
Related Forms:
---
hybrid
---
hybrid - Computer Definition
A circuit, device, or component that comprises multiple elements or performs multiple functions not normally associated with one another.A hybrid communications system might support both digital and analog signals or perhaps both circuit switching and packet switching.
---
(1) See hybrid laptop and Hybrid SACD.
(2) Refers to myriad products that combine two or more different technologies. The term more often than not refers to hardware, rather than software. See hybrid circuit, hybrid computer, hybrid file, hybrid drive and hybrid microcircuit.
(3) Also known as a "termination" or "term set," it is a device that adapts a two-wire telephone line from a home or business into a four-wire trunk at the telco central office. A hybrid also exists within the telephone set, converting the two wire line into the four wires required by the handset (two for the speaker; two for the microphone). See echo cancellation.
---