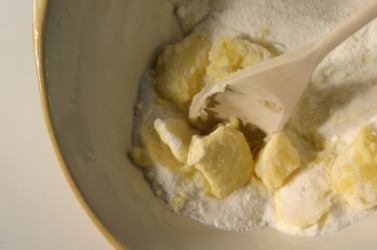 A mixture of butter and suger.
noun
The definition of a mixture is a combination of different things, or the state or act of being mixed.

An example of a mixture is a bowl of butter, sugar and salt.
An example of mixture is the process of combining flour and baking soda.
---
mixture
a mixing or being mixed
something made by mixing; esp.,

a combination of ingredients, kinds, etc.
a yarn or fabric made of two or more different fibers, often of different colors

Chem.

a substance containing two or more ingredients: distinguished from a chemical compound in that the constituents are not in fixed proportions, do not lose their individual characteristics, and can be separated by physical means
Origin of mixture
Late Middle English from Classical Latin
mixtura
from
mixtus:
see mix
---
mixture
noun
a. The act or process of mixing: an alloy made from the mixture of two metals.

b. The condition of being mixed: the inevitable mixture of different cultures in big cities.

Something produced by mixing, as:

a. A combination of ingredients used in cooking or baking.

b. One that consists of diverse elements: The day was a mixture of sun and clouds.

c. A fabric made of different kinds of thread or yarn.

d. Chemistry A composition of two or more substances that are not chemically combined with each other and are capable of being separated.
Origin of mixture
Middle English
from
Old French
from
Latin
mixtūra
from
mixtus
past participle of
miscēre
to mix
; see
meik-
in Indo-European roots.
---
mixture

---