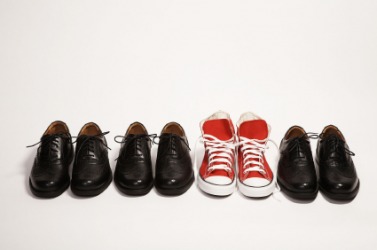 One pair of shoes is very different from the others.
adjective
The definition of different is something that isn't the same, something that is out of the ordinary or something that is separate.

An example of different is the color black compared to the color white.
An example of different is a new movie that uses film techniques never used before.
An example of different is someone from a family that isn't yours.
---
different
not alike; dissimilar: with from, or, esp. informally, than, and, in Brit. usage, to
not the same; distinct; separate; other
various
unlike most others; unusual
Origin of different
Middle English from Old French from Classical Latin
differens
: see difference
---
different
adjective
Unlike in form, quality, amount, or nature; dissimilar: took different approaches to the problem.
Distinct or separate: That's a different issue altogether.
Various or assorted: interviewed different members of the community.
Differing from all others; unusual: a different point of view.
adverb
In a different way or manner; otherwise: "Carol … didn't know different until Elinor told her" ( Ben Brantley )
Origin of different
Middle English
from
Old French
from
Latin
differēns
different-
present participle of
differre
to differ
; see
differ
.
Related Forms:
Usage Note: The phrases different from and different than are both common in British and American English. The British also use the construction different to. Since the 18th century, language critics have singled out different than as incorrect when used before nouns and noun phrases, though it is well attested in the works of reputable writers. Traditionally, from is used when the comparison is between two persons or things: My book is different from [not than ] yours. Note that noun phrases, including ones that have clauses in them, also fall into this category: The campus is different from the way it was the last time you were here. The Usage Panel is divided on the acceptability of different than with nouns and noun phrases, with a majority finding several of these constructions unacceptable. In our 2004 survey, 57 percent rejected the use of different than with a gerund in the sentence Caring for children with disabilities in a regular child-care setting is not new and, in many cases, is not particularly different than caring for other children. Roughly the same percentage (55) disapproved of the construction with a noun phrase containing a clause in The new kid felt that the coach's treatment of him was different than that of the other players who were on the team last year. Some 60 percent rejected the sentence New York seemed very different than Rome, where they'd been on good terms. There should be no complaint, however, when the object of comparison is expressed by a full clause: The campus is different than it was twenty years ago.
---
different

Adjective
(comparative more different, superlative most different)
Usage notes
(not the same): Depending on dialect, time period, and register, the adjective different ("not the same") may be construed with one of the prepositions from, to, and than, or with the subordinating conjunction than.

Pleasure is different from/than/to happiness.
It's different than (from what) I expected.

Of these, from is more common in formal registers than in informal ones, and more common in the US than elsewhere; than is more common in the US than elsewhere; and to is more common in the UK, in Australia, and in New Zealand than in the US. Style guides often advocate different from, by analogy with differ from rather than *differ than or *differ to, and proscribe different than and different to.
Noun
(plural differents)
(mathematics) The different ideal.
Origin
From Middle English, from Old French, from Latin differēns, present active participle of differō ("I differ"); see differ.
See also:
différent
---