adjective
The definition of alike is having similarities.

Lions and tigers are an example of two things that are alike.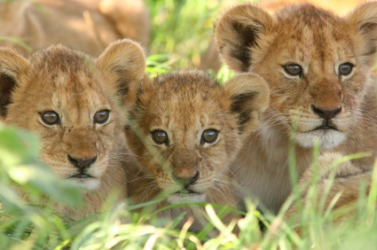 These lion cubs are alike.
---
alike definition by Webster's New World
adjective
like one another; showing resemblance; similar: usually used in the predicate
Origin: Middle English olike ; from Old English gelic, onlike and amp; Old Norse (g)likr, alikr ; from Proto-Germanic an unverified form galik- ; from an unverified form ga- (; from Indo-European an unverified form ge-, perfective prefix) plush an unverified form lik-: see like
adverb
in the same manner; similarly
to the same degree; equally
Webster's New World College Dictionary Copyright © 2010 by Wiley Publishing, Inc., Cleveland, Ohio. Used by arrangement with John Wiley & Sons, Inc.
---
alike definition by American Heritage Dictionary
adjective
Having close resemblance; similar: The twins are as alike as two peas in a pod. Friends are generally alike in background and tastes.
adverb
In the same manner or to the same degree: They dress and walk alike.
Origin: Middle English alich (influenced by Old Norse ālīkr), blend of ilich (from Old English gelīc) and anlich (from Old English onlīc); see līk- in Indo-European roots.
Related Forms: