interjection
The definition of bingo is a way to express a new idea, or an answer is correct.

An example of bingo is what you'd say when you remember where your lost keys are located.
noun
Bingo is defined as a game where players have one or more cards printed with rows of numbers, an announcer calls out numbers and the first player to get a full row of their numbers called wins.

An example of bingo is a game that many churches use as fundraiser events.
YourDictionary definition and usage example. Copyright © 2013 by LoveToKnow Corp.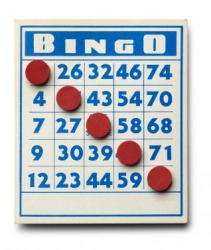 The card used for playing beano, or bingo.
Licensed from iStockPhoto
---
☆
noun
a gambling game played with cards having rows of numbered squares, no two cards being numbered alike: players use markers to cover the numbered squares on their cards corresponding to numbers drawn by lot, and the player who first gets a row covered is the winner
Origin: ; from uncertain or unknown; perhaps
interjection
in the game of bingo, used to signify that one has just finished covering a row of squares
used to signify sudden action, change, or success
Webster's New World College Dictionary
Copyright © 2010 by Wiley Publishing, Inc., Cleveland, Ohio.
Used by arrangement with John Wiley & Sons, Inc.
---
noun
pl.
bin·gos
A game of chance in which each player has one or more cards printed with differently numbered squares on which to place markers when the respective numbers are drawn and announced by a caller. The first player to mark a complete row of numbers is the winner.
interjection
Used to express the sudden completion of an event, occurrence of an idea, or confirmation of a guess.
Origin: Origin unknown.
The American Heritage® Dictionary of the English Language
, 4th edition Copyright © 2010 by Houghton Mifflin Harcourt Publishing Company. Published by Houghton Mifflin Harcourt Publishing Company. All rights reserved.