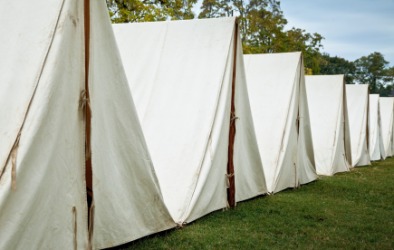 Tents in a re-enactment of a Revolutionary War soldiers camp.
noun
The definition of a camp is where people live for a short period of time.

An example of a camp is your tent while at the Burning Man festival.
An example of a camp is where the military live while in training.
---
camp
a place where tents, huts, barracks, or other more or less temporary structures have been put up, as for soldiers in training or in bivouac
military life

a group of people who support or advance a common opinion, cause, etc.
the position taken by such a group

a tent, cabin, etc., or a group of these, used for temporary lodging, as by hunters or fishermen
a place in the country for vacationers, esp. children, with outdoor recreation, often organized and supervised
the people living in a camp

Origin of camp

orig., homosexual jargon

Slang

banality, mediocrity, artifice, ostentation, etc. so extreme as to amuse or have a perversely sophisticated appeal
exaggerated effeminate mannerisms, usually affected for amusement
Origin of camp
French from Old Provençal from Classical Latin
campus
, a field: see campus
Slang
characterized by camp (noun)
to set up a camp; encamp
to live or stay in or as if in a camp: often with out
to put into a camp
to provide with accommodations
break camp
to dismantle a camp; pack up camping equipment and go away
camp it up
Slang
to behave in a camp way
Camp
1859-1925; U.S. football authority and coach
---
camp
noun
a. A place where tents, huts, or other temporary shelters are set up, as by soldiers, nomads, or travelers.

b. A cabin or shelter or group of such buildings: gathered branches and grasses for a makeshift camp; had a fishing camp in Vermont.

c. The people using such shelters: a howl that awakened the whole camp.

a. A place in the country that offers simple group accommodations and organized recreation or instruction, as for vacationing children: a girls' summer camp; a tennis camp.

b. Sports A place where athletes engage in intensive training, especially preseason training.

c. The people attending the programs at such a place.

A prison camp or concentration camp.
Military service; army life.
A group of people who think alike or share a cause; side: The council members disagreed, falling into liberal and conservative camps.
verb
camped, camp·ing, camps
verb
intransitive
To make or set up a camp.
To live in or as if in a camp; settle: We camped in the apartment until the furniture arrived.
verb
transitive
To shelter or lodge in a camp; encamp: They camped themselves by a river.
Origin of camp
Early Modern English
from
Middle French
probably from
Italian
or
Spanish
campo
both from
Latin
campus
field
; see
campus
.
noun
Deliberate affectation or exaggeration of style, especially of popular or outdated style, for ironic or humorous effect: "Camp is popularity plus vulgarity plus innocence" ( Indra Jahalani )
adjective
Showing or characterized by camp: played up the silliness of their roles for camp effect.
Given to or characterized by exaggerated, effeminate mannerisms.
verb
camped, camp·ing, camps
verb
intransitive
To act in a histrionic or exaggerated manner.
To act in an exaggerated, effeminate manner.
verb
transitive
To exaggerate or overdramatize: camped up the characters in the play.
Origin of camp
Origin unknown
Related Forms:
cAMP
---
camp

Initialism
Central Atlantic magmatic province
---