lodge

lodge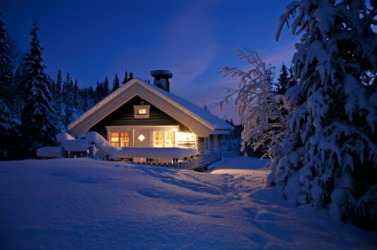 A snowbound ski lodge.
noun
The definition of a lodge is a shelter such as a cottage or resort, generally used for vacation purposes.

An example of lodge is where skiers may stay on a skiing trip.
verb
Lodge is defined as to provide or rent a cottage or resort space, to be stuck or caught, or to store something.

An example of lodge is to stay at a hotel for five nights.
An example of lodge is for a splinter to be stuck in someone's finger.
An example of lodge is put money in a safe.
---
lodge
a small house, esp. one for a servant or one for use during a special season: a caretaker's lodge, hunting lodge
a resort hotel or motel

the meeting place of a local chapter, as of a fraternal organization
such a local chapter

the den or typical lair of certain wild animals, esp. beavers

the traditional hut or tent of an American Indian
those living in it
Origin of lodge
Middle English
loge
, hut, masons' workshop (from source sense 2) from OFr, summer house, arbor (from source loge) from Late Latin
lobia
from Germanic an unverified form
laubja
, sheltered place, leafy arbor (from source Old High German
louba
, upper roof, porch, leafy cover): for Indo-European base see leaf
transitive verb
lodged

,

lodg′ing
to provide with a place of temporary residence; house
to rent rooms to; take as a paying guest
to serve as a temporary dwelling for
to serve as a container for
to place or deposit for safekeeping
to put or send into a place or position by shooting, thrusting, etc.; place; land: with in: to lodge an arrow in a target
to bring (an accusation, complaint, etc.) before legal authorities
to confer (powers) upon: with in
to beat down (growing crops), as rain
Origin of lodge
ME
loggen
< OFr
logier
(> Fr
loger
)
to live in a certain place for a time
to live (with another or in another's home) as a paying guest
to come to rest or be placed and remain firmly fixed: with in: a chicken bone lodged in the cat's throat
Lodge
1850-1924; U.S. senator (1893-1924)
---
lodge
noun
a. An often rustic building used as a temporary abode or shelter: a ski lodge.

b. A small house on the grounds of an estate or a park, used by a caretaker or gatekeeper.

c. An inn.

a. Any of various Native American dwellings, such as a hogan, wigwam, or longhouse.

b. The group living in such a dwelling.

a. A local chapter of certain fraternal organizations.

b. The meeting hall of such a chapter.

c. The members of such a chapter.

The den of certain animals, such as the dome-shaped structure built by beavers.
verb
lodged, lodg·ing, lodg·es
verb
transitive
a. To provide with temporary quarters, especially for sleeping: lodges travelers in the shed.

b. To rent a room to.

c. To place or establish in quarters: lodged the children with relatives after the fire.

To serve as a depository for; contain: This cellar lodges our oldest wines.
To place, leave, or deposit, as for safety: documents lodged with a trusted associate.
To fix, force, or implant: lodge a bullet in a wall.
To register (a charge or complaint, for example) before an authority, such as a court; file.
To vest (authority, for example).
To beat (crops) down flat: rye lodged by the cyclone.
verb
intransitive
a. To live in a place temporarily.

b. To rent accommodations, especially for sleeping.

To be or become embedded: The ball lodged in the fence.
Origin of lodge
Middle English
from
Old French
loge
of Germanic origin
---
lodge

Noun
(plural lodges)
A building for recreational use such as a hunting lodge or a summer cabin.
A local chapter of some fraternities, such as freemasons.
(US) A local chapter of a trade union.
A beaver's shelter constructed on a pond or lake.
(mining) The space at the mouth of a level next to the shaft, widened to permit wagons to pass, or ore to be deposited for hoisting; called also platt.

A collection of objects lodged together.
A family of Native Americans, or the persons who usually occupy an Indian lodge; as a unit of enumeration, reckoned from four to six persons.

The tribe consists of about two hundred lodges, that is, of about a thousand individuals.
Verb
(third-person singular simple present lodges, present participle lodging, simple past and past participle lodged)
(intransitive) To be firmly fixed in a specified position.

I've got some spinach lodged between my teeth.
The bullet missed its target and lodged in the bark of a tree.

(intransitive) To stay in a boarding-house, paying rent to the resident landlord or landlady.

The detective Sherlock Holmes lodged in Baker Street.

(intransitive) To stay in any place or shelter.
To place (a statement, etc.) with the proper authorities (such as courts, etc.).
(intransitive) To become flattened, as grass or grain, when overgrown or beaten down by the wind.

The heavy rain caused the wheat to lodge.
Origin
From Middle English logge, from Old French loge ("arbor, covered walk-way"), Medieval Latin lobia, laubia, from Frankish *laubija ("shelter"), from Proto-Germanic *laubijō ("arbour, protective roof, shelter made of foliage"), from Proto-Germanic *laubÄ… ("leaf"), from Proto-Indo-European *lōubh- ("the outer parts of a tree, bark, foliage"). Cognate with Old High German louba ("porch, gallery") (German Laube ("bower, arbor")), Old High German loub ("leaf, foliage"), Old English lÄ"af ("leaf, foliage"). Related to lobby, loggia, leaf.
---